Today marks Gavin's 23rd antibody infusion. December will mark the 2 year anniversary of Gavin being diagnosed with Primary Immunodeficiency.
Depending on how Lizze is feeling in the morning, she may be taking him for his infusion.
It's easier for her to take Gavin than it would be for her to stay home the ever energetic, Mr. Emmett John.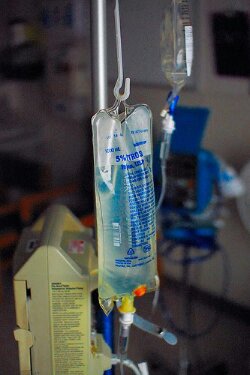 It's really hard to believe that it's been almost 2 years on this immunological journey. It's been a long road.  A road that was at times, quite scary. It's a lot for a kid to have to cope with and for the most part, Gavin does really, really well.
We have the typical issues of him being demanding to the staff or at times, downright disrespectful.
Overall, I'm really proud of him because I can't imagine having to do this each and every month.
For those that are aware, Gavin receives IVIG infusions every month because his body doesn't produce enough.  What he does produce on his own, is defunct.  This basically, means that Gavin has a significantly compromised immune system.
Ironically, he has never really been a sick kid.  I mean he had ear infections and that sorta thing but never anything serious.
That's a miracle, considering.  Nevertheless, we are very grateful for that miracle.  🙂
We actually found this whole thing out on accident.
Gavin's gastrointerologist ran a blood panel testing for certain foods allergies and that how we found out.  We were completely caught off guard. He had gone 11 years without anyone picking up on this and never getting seriously ill.
We have Akron Children's Hospital to thank for not only discovering this but taking such good care of him over the past 2 years.
I can't say enough about Akron Children's Hospital. They are simply amazing and I don't think there is another way to describe them.
I feel like we should have a little celebration for Gavin's 2 year anniversary next month.  Maybe a cake or something.  To me, this is a pretty big deal and should be celebrated.  Especially considering that this all takes place in oncology.  Every single month, we realize just how much worse it could really be.
If you ever need perspective in you life, volunteer in a children's oncology ward.  I promise, it really does put things into perspective.