I was wondering if anyone else is struggling to find balance? I'm struggling to find balance in my life.  As a special needs parent, writer and husband, I'm constantly being pulled in a thousand different directions. 
More often than not, I find myself of center and being unable to juggle all the things in my life.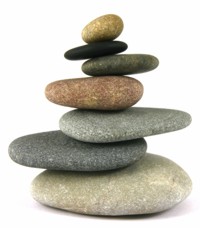 Considering how long I've been doing this, you'd think I would be better at it but I'm not. No matter how hard I try I'm still dropping the ball somewhere.  One would think that I'm doing a really good job and if a few balls hit the ground along the way, so be it. 
That's a great point and I'd love to agree with you.  However, if one of the balls that hit the floor represents something truly important to someone in my life, how is that okay?
I wish to find a way to be more proficient at what I'm doing.  I wish to find some sort of balance, so that I can do better by everyone in my life, including myself.
How do you find balance in your life between all of your family obligations, of which there are many inappropriate special needs family,  and the rest of your life?