Crazy Glue can't fix everything everything. I mentioned in my last post that I crazy glued Bella nail, in order to secure it and hopefully avoid a trip to the Vets.
It worked great stuff first. 
Unfortunately, without thinking, I let the dogs out and Bella broke the same nail even more.  She came in the house and left a trail of blood everywhere.  This time however, the boys were home to experience this.

The nail was in much worse shape than it was previously and we resigned ourselves to have to remove it ourselves. It just needed snipped off, so that it could heal.
I called my Dad because I wasn't sure how this was going to go and I wanted backup in case I needed it.
Emmett was crying and Elliott was extremely anxious. However, they wanted to help by wiping up the floor and they did a fantastic job. I covered Bella's nail and toe with lidocaine cream to help reduce the pain and we waited for my Dad to arrive.
When my Dad showed up, Maggie ran to the door to see who it was. Bella jumped up off of Lizze's lap and tried to get to the door. 
When I sat back down to look at her and show my Dad what we were dealing with, we noticed something. 
Apparently during the struggle to keep Bella on the couch, she ripped the broken part of her nail off, all on her own. Turns out my Dad was a huge help by simply knocking on the door.
We packed her broken nail with flour to stop the bleeding and cleaned her up.  I added some antiseptic and wrapped her foot up.  She is also sporting the cone of shame tonight, just in case. 
Lizze gave her some benadryl to knock her out and help with the ichy rash.
That's that.
Looks like everything actually worked out for once.  🙂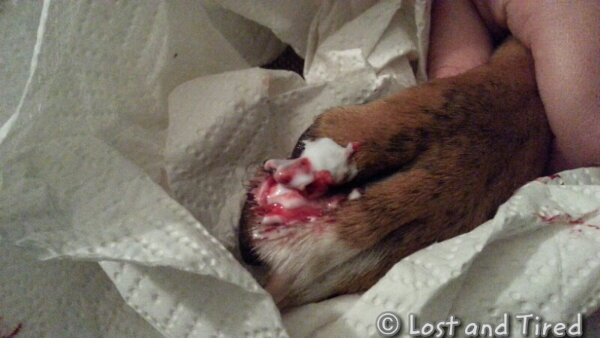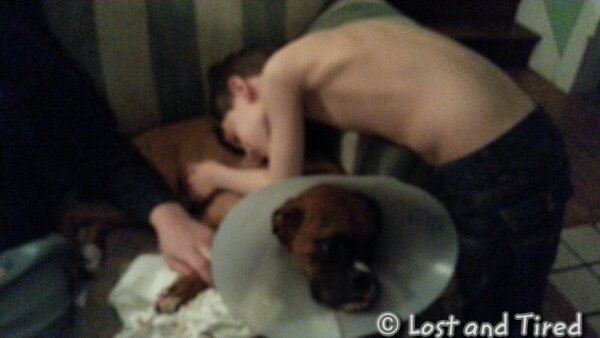 This site is managed via WordPress for Android, courtesy of the Samsung Galaxy S III. Please forgive any typos. I know how to spell but auto-correct hates me.  😉
You can help support my family and this site by checking out and sharing my articles at the Childswork Blog.
For more ways to help the Lost and Tired family, please visit Help the Lost and Tired Family.