I'm going to confess to something that I'm quite embarrassed of and never talk about because I really struggle with this.
Something you may not know about me is that I'm rather particular about my things.  Some might consider it OCD but I honestly don't know. 
For me personally, I can't deal with things like dead pixels an LCD screen. 

While I truly love technology, I dread getting things like new phones, handheld gaming systems or TV's/Monitors.  The excitement of getting something new is drowned out by the anxiety I feel over whether or not the display is perfect.
If I see a dead pixel or worse, dead pixels, I simply can't cope with it.  Once I see it I know it's there and can't move passed it.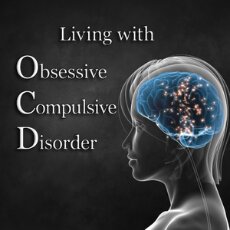 I've been known to return or exchange things many times, in an attempt to get something without imperfections. Often times, I eventually give up and either return or sell whatever product it happens to be. 
I know I'm not alone in this because a lot of techy people are bothered by this same exact thing. 
Last night, I noticed that my phones display is not perfect. 
My particular model uses a non-LCD type display, known as Super AMOLED. It basically a new display technology that uses different materials and functions differently as well.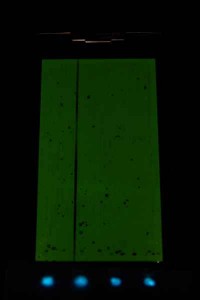 Dead pixels on an AMOLED screen are rare, but they do happen.  Another known issue with AMOLED screens are these black blotches that are visible in low light conditions on a black screen. These are extremely difficult to notice and some people may not ever be able to actually see them.
Basically, you go into a dark room and bring up a black screen.  Once your eyes adjust to the dark, the black image will actually begin to take on a greenish tint.  If you have any of these blotches, you'll see very thick, dark, black lines or spots. It looks like someone wrote with a black  sharpie on the screen. 
These are only visible in these conditions and affect absolutely nothing else about the screen. 
Having said that, not all screens suffer from this. So to me, it's a defect, even though it really isn't. 
It does however, drive me absolutely crazy.  I won't even want to touch the phone because I feel that it's broken and it will put me in the worst mood imaginable. 
If I'm being completely honest with you,  it feels like my whole world comes crashing down around me. 
I know how ridiculous that sounds and I'm quite embarrassed to admit this but it's true.
The reason I have brought this up is that I've noticed that my kids are doing the same things. They are extremely particular about these things.  While they don't care about dead pixels or black blotches, they are profoundly affected by the slightest imperfections of other things. 
For example, Emmett is very particular about his food.  If he sees any and I mean any perceived imperfections in his food, he will refuse to eat.
Elliott is the same way about other things.
I realize that this is likely part of who they are.  However, I don't want to contribute to this in any way.  If fact, I want to be able to help them to move passed this stuff. 
How can I do that if I'm guilty of this myself. My kids aren't aware of my struggles but I'm aware of theirs. 
I have made a big decision and I wanted to share that with you all. 
I have decided to live with my phone the way it is.  Trust me when I say that it's more easily said than done. I just can't keep doing this and take the chance that my kids maybe learning this from me. 
I wouldn't wish this feeling on anyone.
I want to be able to look my boys in the eyes and tell them that things don't have to be perfect. It's okay to live with life's little imperfections. The imperfections make thing more interesting and unique.
If you've never dealt with OCD, you can't imagine how controlling it is and how powerless you feel over your own life.
I'm hoping to lead my boys through this challenge.  I plan to do so by leading by example. My boys, their sanity, happiness and safety are way more important than having the perfect screen on my phone.