Perhaps I'm alone in my feelings, but just in case, I thought I would put this out there.
All of my life, I've always loved the holidays.
I loved seeing family and friends that I haven't seen in awhile.  I loved the atmosphere and feeling of togetherness.  I was also quite fond of all the lights, sounds and smells that come with the holidays, especially Thanksgiving and Christmas.

Now I have a family, a special needs family and everything has changed, at least for me.
You see, all the things that I loved so dearly about the holidays, my family can't cope with. The reason for this is that my wife and all three of our boys are all on the #Autism spectrum.
Basically, the holidays, in the more traditional form, are an all out assault on their senses.  The lights, sounds, smells and crowds of people lead to sensory overload.  This in turn leads to an innate need to purge, otherwise known as a meltdown, not to be confused with a tantrum.
It never fails that no matter how hard we try to minimize exposure to things that could be considered overstimulating, it just never works.
This really takes most of the pleasure out of the holidays.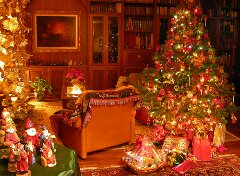 I mean, how fun can it be if everyone is miserable?
The only thing we have found that works is avoidance. Avoidance is the actual of avoiding the holidays. You can also think of it as running away but that makes it sound worse than what it is. 
What we really try to do is keep the excitement to a minimum.
We don't decorate with bright lights.  We use an artificial Christmas tree to avoid the migraine inducing smell of pine.
Last but not least, we try to avoid going anywhere, especially if it will be loud or crowded.
We disguise the fact that we are avoiding the holidays by saying that we are starting new traditions. However, the truth is, we're just avoiding the side effects of everything festive.
Our success tends to vary from moderate to complete failure.
How do you handle the holidays in your family?