Elliott had a rough time today.  This poor child already has anxiety issues and now he's become paranoid about this tree nut allergy.
It's so bad that he refused to eat today.
He had a bowl of cereal this morning and that was it. He's so afraid to eat because he doesn't want to accidentally eat something that cause him an anaphylaxis response.

The entire time we were there I was sitting in a quiet room with Elliott who didn't want to be around anyone.
I don't know how to help him.
I keep reassuring him that we are being very careful and that if we tell him he can eat something, than its safe for him to eat.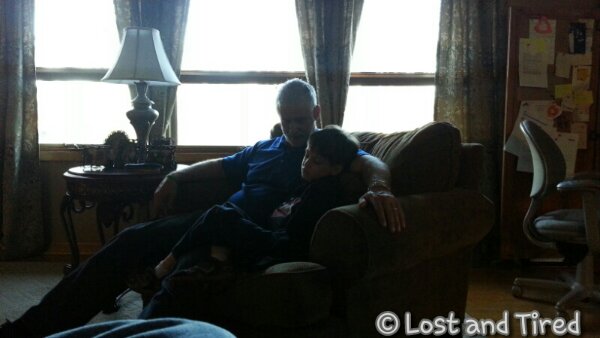 This is my Dad trying to comfort Elliott and get him to eat something.
It breaks my heart watching him go through this. 
He also doesn't want to talk about it.  I think he's afraid that he'll upset us somehow.  I keep telling him that I want to hear about anything that's bothering him.
I'm not sure what to do.
Thanksgiving was really kinda sad for me and clearly for Elliott so well.