This was my experience at the polls this morning.  I'm not suggesting that this is an actual problem, but I felt uncomfortable with it.
I voted this morning but it took quite some time.  I didn't struggle with who I was voting for.  The problems was that I was challenged.  That basically means that for some reason, I was flagged.
I don't know if it's random or what.

The problem had to be resolved with me filling out a 10u form.
The form was broken up into sections based on the reason for me being challenged in the first place.
However, the Election Official on hand, didn't know how to fill it out.  His instructions to me were to "fill out the whole thing. If you do that, whatever is wrong will fixed".
I didn't feel that was right.  It was clear that the forms wasn't intended to be filled out that way.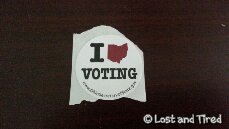 I even asked the Election Official "Evan", how I'm supposed to know how to fill this out if he didn't.  He responded with "I don't know what to say".
Despite the fact that by doing as instructed I knew the forms wasn't being filled out correctly, I did as I was told because I wanted to cast my ballot.
The entire process took between 30-45 minutes, most of the time was spent waiting to be told what to do. I did eventually succeed in voting and got my sticker -which I gave to Emmett-.
This does raise some concern about  how the process will be for others as well.
I could very easily see a person becoming so frustrated or simply not have time,  that they walk away from the polls without voting. What killed me was that I was one of only 3 people in line and it still took that long.
I can't imagine what it will be like when the lines are out the door.
I totally understand that there needs to be assurances that a person is eligible to vote in a particular district.  Having said that, the Election Officials on hand should at the very least be knowledgeable in filling out the required forms necessary for responding to a challenge.
Having someone fill out the entire form, simply because the Election Official doesn't know how to properly fill them out, doesn't inspire a great deal of confidence.
The form was accepted with very little review.  In fact, as I watched them glance over it, I saw a question I forgot to answer but before I could say something, I was handed my voters card.
Not a very smooth process for me today.
Regardless of the bumpy ride, I'm grateful for the right to vote in the first place. I would have voted today come hell or high water.  It would have been nice if the process was smoothed out and the Election Officials on site,  we're more knowledgeable.
Please get out and vote today.  This is something that so many have fought and died for.