As a father to 3 boys in different places on the #Autism spectrum, I have rarely found any one thing that can capture the attention of both Elliott and Emmett at the same time. 
Typically,  the only thing Web have found was video game related.
That was until last night.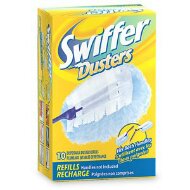 In my fruitless effort to get my house in order, I picked up a box of replacement Swiffer heads.
I did a quick once over and was putting them away. Apparently, I caught the attention of Emmett who was wanting to know what the heck I was doing. 
Admittedly, it's really sad that Emmett hasn't witnessed me dusting enough in his 4 years of life, to know what dusting was. That's a pretty big fail on my part as a parent.  🙁
I showed them how the Swiffer worked.
They each took a wand and a Swiffer head and went to town.  Elliott and Emmett worked in tandem and went through the entire house.  They were captivated by the fact that the dust stuck to the Swiffer but the Swiffer wasn't sticky. 
Anyways, this occupied them for quite some time and they got some exercise as they jumped up and down as they reached for things higher up the wall.
They enjoyed this so much that they want to do this a few times a week. 
Talk about a win…… 🙂
Now I just have to keep them stocked…..