One of the big problems with having as much in our plate as we do, is the fact that it's impossible to keep up with everything. 
At this exact moment, I'm personally managing almost half a dozen crises. 
1) I have everything with Gavin. 

2) Then I have everything that's going on with Lizze. 
3)We have gravely ill family members.
4) Elliott is seriously struggling with anxiety and his new food allergies.  In fact tonight, despite our best efforts, he came into contact with something that has him breaking out in hives.  I had to make a midnight run to Wally World in order to get him Benadryl to control the reaction.Thankfully it was minor enough that the Benadryl was enough to address the anaphylaxis.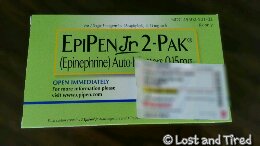 5) We are scheduled to have our gas shut off in the next couple of days.  We have delayed as long as we can and exhausted all options for assistance. 
6) I lost my writing job this week. Loss of income certainly doesn't help anything. 
This is just a few of the fires I'm currently trying to put out.  The reality is that any one of these situations alone would be challenging. However, having to try and manage these all at the same time and alone for most part…..well, I just do the have the words to describe that challenge.
I'm so stressed out that I've become sorta numb to some of these things. 
For example, I should be freaking out about the gas being turned off because obviously that a huge problem..  However, I can't afford to spend what precious little energy I have left on stressing out over something that I have absolutely no control over.
I need to go grocery shopping but I haven't been able to sit down and put an Elliott friendly list yet.
Truthfully, I don't even know where to begin. When you have a child with food allergies, regardless of what those allergies are, it's extremely stressful, at least until you get a handle on things.
Right now, I don't have a handle on things.
I at least have to hold it together long enough to make it through the first official Wraparound team meeting we have in the morning. 
It's absolutely horrible timing but not having this meeting is only going to delay things with Gavin's residential treatment, even more. We can't afford for that to happen.
I know it sounds like I whining about my life.  That's honestly not my intention.  As challenging as my life is and as overwhelmed as I currently am, I love my life. That's not to say that I'm without the need to purge or vent.
There are people in this world that think I'm some kind of superhero because I'm doing all the things I'm doing. 
Trust me when I say this.  I'm far from perfect and I make more than my fair share of mistakes.
Right now I feel like I can't do anything right and I'm destined to fail. Fortunately, I don't give up very easily.
I really need to get my shit together and figure out how to get a handle on things.