Gavin has been home less than 24 hours and has already had a massive tantrum.
I'm watching all three boys while Lizze is at a family function.  This is really important to her because she needs to spend time with some of her family while she can.
Anyway, here's what happened.

Gavin and Emmett were playing with a slinky on the steps.
While they were playing, the slinky was dropped over the side of the steps and tangled up in the cord for the Christmas tree.
Let me just say that I hate the slinky.
However, putting my personal disdain for the slinky aside, I fixed it for them once again. I simply asked how the slinky got tangled in the tree..
I explained that no one was in trouble, I just wanted to show them how to use the slinky so that doesn't happen again. That was all I said. Part of me was simply curious as to how the heck this got so completely tangled in the tree.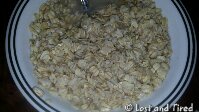 Gavin began dancing around saying he couldn't remember.  I told him to calm down because no one was in trouble. He just escalated and swore that it wasn't him.
I sent him to his room in order to get him away from his brothers.
I went up to speak with him about what had happened. He claimed that he couldn't remember who had launched the slinky into the tree. I told him that I don't understand how he could not remember that?  After a few minutes of tripping over his words and freaking out, he admitted to being the responsible party.
He said he lied cause he didn't want to get in trouble.
I reminded him that he wouldn't have been in trouble and I had already told him that quite a few times.
He was however, in trouble now because he lied to me.  We have to be able to trust him and lying can't be tolerated. As a result, he lost his choice for what he could have for lunch and instead received the default meal, plain oatmeal.
The tantrum that followed was massive and has disrupted things once again.
On the positive side of things, it was rather short lived. I suppose, I could have not picked this battle but I did.  I didn't make him lie. In fact, I gave him every chance to be honest without getting into trouble.
I don't miss this at all.  🙁