I thought I would help you fill that shiny new android tablet you just got with some amazing apps. Below you will find a list of educational apps, all of which I have personally played with my own kids. These are all created by a company called Intellijoy.

Intellijoy is the #1 developer of educational apps on the entire Google Play Store, and for good reason. 

Every one of these apps will work fantastically on the highly recommended Samsung Galaxy Tab 2 (7.0) and the Samsung Galaxy Tab 7.0 Plus.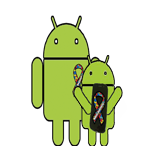 Check out the extensive list below and click on the app title, located beneath each icon, for a direct link to the install button located on the Google Play Store. Please note that there are both paid and free versions of these apps.
This gives you the ability to play before you buy. My kids love these apps and they have become staples on all of our devices. 🙂
I hope this helps. Enjoy and please leave your feedback below.
Kids Will Love This Latest App from Intellijoy If your child loves visiting the zoo, they will love Intellijoy's latest app, Kids Animals.

---

The long awaited sequel to our best-selling KIDS ABC PHONICS. The paid verson has 15 extra words in the first and the third activities as well as child-lock functional…

---

A hands-on, real-life way for kids to learn shapes. A hands-on, real-life way for kids to learn shapes.

---

An educational and entertaining game for preschoolers with beautiful graphics. This app is now optimized for both phones and tablets. 

A fun way for kids to learn numbers and build basic math skills. This app is now optimized for both phones and tablets. 

Connect all the dots and reveal the beautiful picture with this fun kids game. This app is now optimized for both phones and tablets.

A fun way way to learn the ABCs from the leading edugames publisher.

Thrill Your Little Ones This Holiday Keep the kids quiet this holiday season with a festive-themed, musical version of Intellijoy's Kids Connect the Dots app. 

The long awaited sequel to our best-selling "Kids Preschool ABC Letters" This app is now optimized for both phones and tablets.

Educational fun with colorful puzzles from Intellijoy This app is now optimized for both phones and tablets.

---

"I couldn't get my phone back." Magnetically enchanting way to master ABCs. This app is now optimized for both phones and tablets.

---

The long awaited sequel to our best-selling KIDS PRESCHOOL ABC LETTERS This app is now optimized for both phones and tablets.

---

A fun way for kids to learn numbers and build basic math skills. 

The long awaited sequel to our best-selling KIDS ABC PHONICS. Now optimized for both phones and tablets.

---

Kids Will Love This Latest App from Intellijoy If your child loves visiting the zoo, they will love Intellijoy's latest app, Kids Animals.

---