It's really important for me to keep things in perspective.  Sometimes I can get caught up in all we have going on and forget that there are families out there in a worse position than we are.
It's in these moments that I'm forced to realize that while it's true, we face very daunting challenges, it could always be worse (knock on wood)….
There are so many things that I'm thankful for.

I'm thankful that we have a roof over our heads.
I'm thankful that we are still fighting the good fight.
I'm thankful that Lizze and I are still together, despite the odds.
I'm thankful that I have my boys. 
I'm thankful that they are who they are, autism and all.
I'm thankful that we have family that cares about us.
I'm thankful that no matter how bad things get, somehow we always manage to rise to the occasion.
I'm thankful that I have this blog and that all of you find meaning in reading it.
I'm thankful that I'm alive and I have decades of life ahead of me, God willing. 
Sometimes it can do a soul good to sorta take inventory of things.  We I hear the word inventory it always reminds me of one of my old jobs when we had to essentially account for specific items in the warehouse.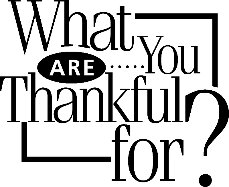 However, in this case, taking inventory is more about remembering what you already have as apposed to what you might want or feel is lacking in your life.
You all know by now that I'm a realist.  I don't like sugar coating things and I know that sometimes the glass really is half empty.
Having said that, there really is always something to be thankful for.  I know that sounds a bit cliche, but I really do believe that to be the truth.  It may not always be staring me un the face, but it's always there.  I just have to be open to a new perspective.
I thought it might benefit someone of you out there is we could all share something that we are thankful for.
It can be anything….
Perhaps,  your words may inspire someone to see their life a little bit differently.  I would love to hear what you are all thankful for.