I have been following this whole Mayan Calander thing with fascination. It think is so interesting and honestly, really sad that so many people are freaking out over something that happened so long ago.
So their calander ran out, big deal.  Ours runs out every year.  Does that mean that the world will be ending? Of course not.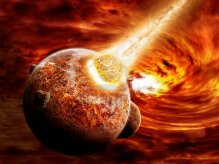 Forgive me for saying this but there are really some…..um…interesting people out there. 
I've read about people on a mountain in France, waiting for the mother ship to come and take them away. Really? I've also heard about people building panic rooms or fallout shelters in order to survive the pending apocalypse that's what, like 12 hours away??
I'm of the mind frame that anything could happen. However, whatever does happen, probably has much more to do with what we've done as a modern society and nothing to do with anything the ancient Mayan's ever said.
Something that I try to do and often fall short of is live each days as if it were my last.  By doing that, I figure I have my bases covered.  I never leave anything unsaid and I always, always, always make sure my family knows how much I love them. 
For the Lost and Tired family, it's business as usual. We'll probably all hang out as a family today and have a nice dinner. I'll make sure to say how much I love each of them today as well, ya know, just in case.  😉
What are your plans for this possibly but very unlikely apocalyptic evening?