In the aftermath of Sandy Hook Elementary and all the other horrible tragedies involving gun violence, I completely support this message. I realize that in United States, we have a right to bare arms. However, something very clearly has to give.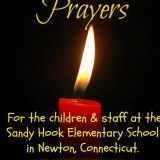 We have to find a way to address this problem and keep our children safe. Personally, I willing to accept tighter restrictions or whatever is necessary in order to keep our children safe from gun violence.
Having said that, we also must realize that guns are not the only problem.

There is always a person that pulls the trigger. Even if we remove guns, won't that deranged person find another way to inflict violence? We need a dynamic plan that will address this from as many angles as possible.
I don't have the answers but I do know that something must be done to end gun violence. No more waiting. No more deaths. No more loss.
Demand A Plan to End Gun Violence
[youtube]http://www.youtube.com/watch?v=64G5FfG2Xpg[/youtube]