I'm gonna climb on my soapbox for a few minutes here and get something off my chest. I don't mean to sound like a jerk or insensitive to anyones personal beliefs but here it goes.
I wish you a Merry Christmas…you don't like it….deal with it.
I'm so tired of being politically correct and trying to not offend someone. If me wishing you a Merry Christmas offends you, get over it.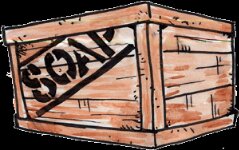 I absolutely respect your personal beliefs and if I happen to know what they are, I would wish you a happy (insert holiday here). However, if I don't, I'm not going to hide behind Happy Holidays anymore.
If I wish you a Merry Christmas, it has nothing to do with religious beliefs. I'm simply wishing you well. While I realize that not everyone celebrates Christmas, however the overwhelming majority in the United States do.
I'm so sick of how intolerant we have become as a society.
People are so easily offended anymore and we are stripping our country of everything that made us unique in the world.
So you don't share my beliefs or celebrate the same holidays, so what? I don't care if you believe something different. Maybe you celebrate Hanukkah, Kwanzaa, Boxing Day or something else all together. That's awesome.
I'm thrilled to see seasonal decor for people with different cultural beliefs. That's what makes the world go round.
I don't force mine on you and you don't force yours on me.
If you stopped me on the street and wished me a Happy Kwanzaa, I might be a bit confused but I certainly wouldn't be offended. I would simply say thank you, and appreciate the gesture of the act of kindness it was intended to be.
Our skin needs to thicken up just a bit. We need to chill out and simply be grateful that someone, a perfect stranger even, is wishing us well. We should see the holidays for what they are, a time to celebrate, be with loved ones and be kind to those around us.
I love you all. You're like extended family to me. Please try to be open minded this holiday season. Please don't make me climb back up here. I have a thing with heights. 🙂
I'm climbing down off this soapbox and I promise to put it away for a little while.
Merry Christmas……