Chloe is a very good friend of mine, who just happens to be living with Autism. Chloe has provided me with a great deal of invaluable insight that has helped me to better understand my own kids. I value her opinion greatly and I very much support the message she is delivering in the following post. 🙂

My name is Chloe Rothschild. I am a young adult who has Autism. I write for www.special-ism.com. I advocate for Autism. I want to help people understand Autism better. Rob asked me if I wanted to write a guest post and of course I said I would be happy to. J

The shooting in Connecticut was shocking, heart breaking, awful, horrible, tragic and so much more. When I first heard about the shooting, I was so sad for all of the people that died, especially for the little kids who barely had lived life yet. Little kids who would not get to open up Christmas presents this year.
Most of all, I didn't understand why someone would do something as awful as shoot school staff, and kids, and anybody for that matter. It made no sense to me. I wondered why everyone in the world just couldn't be nice to each other and get along.
Then, not long after I heard of the shooting, I had heard the talk about the shooter having Asperger Syndrome, which is on the Autism Spectrum. This kind of made me nervous because it worried me that others would start to be afraid and fearful of those who have Autism.
I feared that people would start to perceive anyone who had Autism to be violent, just because it was said that the shooter, one person had Asperger's Syndrome and was violent. We don't know if Lanza had Asperger Syndrome or not. But what we do know is that every individual who has Autism is different. Individuals with Autism that I know are so sweet, kind, caring, loving, and amazingly wonderful, successful human beings.
None of the many people with Autism that I have met are violent. Yes, some people with Autism have meltdowns, where they can become aggressive, but that is not the same as planned violence. In my opinion planned violence would take so much executive functioning skills, which is a skill that individuals with ASD usually lack or have to learn.
A day goes by, I go on Facebook like I always do, and I see a screenshot,  the screenshot which is below made me SICK! I was scared, terrified. I could not believe how ignorant and sick someone would be to say such a thing, as what was said. Before I went to school the next day, I said, "Mommy, do you promise no one will set me on fire at school today?
As if the first screenshot wasn't enough, I saw another one posted on Facebook, one that made me just as upset. I don't understand why people would say such things, I mean I know they are upset about the shooting, and so am I, but don't blame it on Autism. Don't try to or even say you want to hurt individuals who have Autism, we had nothing to do with what Adam Lanza did, we are nothing like him, so please don't be afraid of us.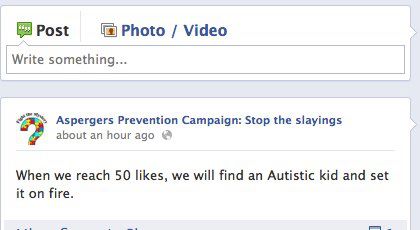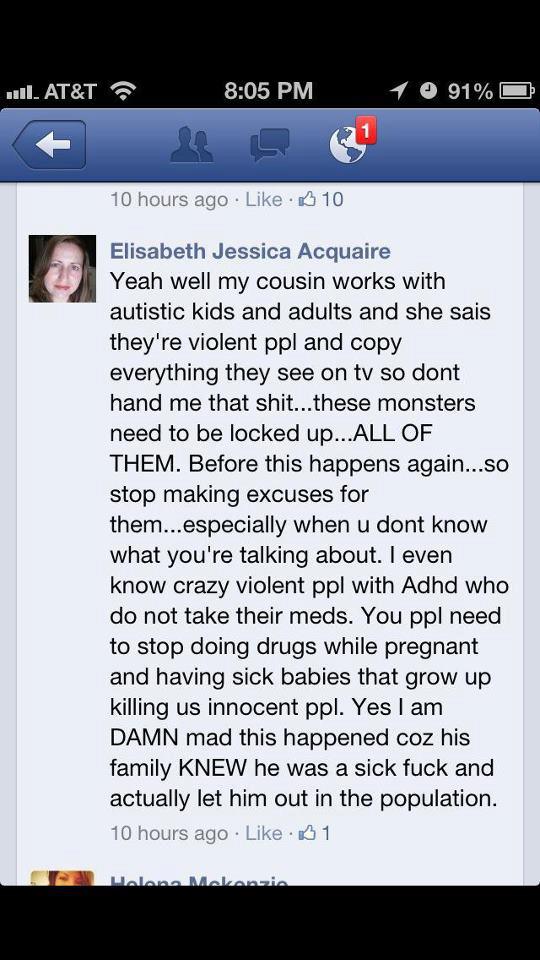 The pictures below of me are happy pictures: This is the sweet innocent side of Autism.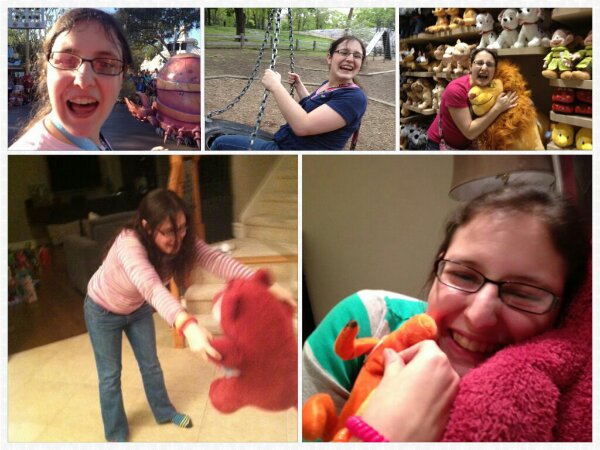 Links:
http://special-ism.com/no-linkage-between-autism-and-planned-violence/
http://autisticadvocacy.org/2012/12/asan-statement-on-media-reports-regarding-newtown-ct-shooting/
http://www.autism-society.org/news/press-releases/autism-society-statement-on.html
http://www.autism.com/index.php/newtown
http://www.autism.com/index.php/awareness
http://www.ocali.org/project/OCALI_Response_to_Newtown
And since I don't want to end my guest post with everyone sad, here is the video that gave me some much needed positive energy that I needed.
By Chloe Rothschild