Something occurred to me the other day, after learning about Lizze's eye problem was more serious than I thought. I was doing some research about exactly how macular holes affect your vision. Basically, they affect your forward vision, meaning they don't impact peripheral vision. Essentially, if Lizze looks at a straight line, it looks fuzzy and broken. The line will appear to be almost dotted.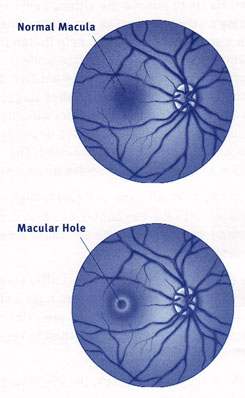 Anyway, it occurred to me that if something is affecting her vision, especially in that manner, could that be what's behind this unforgiving migraine cycle? The reason I'm wondering about this is because these Macular Holes appeared within the last year or so. She didn't have them in her previous eye exam from about a year and a half ago.

They did however, show up in her eye exam from a few months ago. Lizze has done some research and apparently there is a connection between Macular Holes and headaches.
Having said that, there isn't much information about them or the combination. If there is anything to this, the potential for drastic improvement in Lizze's life is very real and the need for chronic pain rehabilitation may be moot.
Monday is an even bigger day than we originally thought. Please keep her in your thoughts and prayers…..