Every once in awhile I feel the need to focus some attention on something that really needs to be addressed. 
My trip up the soapbox today is brought to you by the semantics of #Autism.
When I refer to the Semantics of #Autism, I'm referring to the splitting of hairs over word choice.  This has really become kind of disheartening and I'll tell you why. 

Before I share why I find this disheartening, let me explain what's going on first.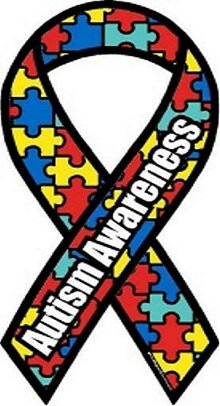 Basically, this splitting of hairs is over whether one should say "a child with autism" or "an autistic child". In other words, if you are talking to someone about your child and Autism is brought up, should you say "Jonny has autism" or "Jonny is autistic"?
In my opinion, either one is perfectly fine.
However, there are people in the world that put what I feel is way to much weight on a persons choice of words.
For example, some people are extremely offended if you refer to someone as having autism. Yet there are others that are equally offended if you refer to someone as being autistic.
As you can probably guess, there's no way to know who prefers what, short of them wearing a sign that states their personal preference.  It can literally be like walking through a minefield at times. 
I've lost track of how many times someone has felt the need to correct my choice of words. In fact, it happened again today. 
Sometimes the corrector is polite and other times, not so much.
What I really don't understand is why people are letting something as simple as word choice, get under their skin to the point that they get really upset. I really want to understand why this is so offensive.
I know all about the person first language.
Personally, I think it's absurd that we choose to bicker over something as petty as semantics. I mean, I consider myself a pretty sensitive person. I care a great deal about other peoples feelings, thoughts and opinions.
Having said that, I just can't wrap my head around the person first language.
What I really find disheartening is the fact that semantics can and often times does, drive a wedge between us. I get the point of the person first language. However, I think the notion of putting the person before the disorder is often times misguided.
If we spend so much time trying to seperate the person from the autism, doesn't that give the impression that having autism, or being austic is somehow bad?
We spend all this time preaching about acceptance or understanding and yet we can't even agree on terminology.
I feel like, if we truly accepted autism and embraced it, we wouldn't care whether some said with autism or autistic.
I worry that this community will continue to be fragmented by our petty differences..
As a father to 3 boys in the autism spectrum, I truly hope you can prove me wrong.
This was posted via WordPress for Android, courtesy of Samsung's Galaxy Note 2. Please forgive any typos. I do know how to spell but auto-correct hate me.
Please join our Autism Help Forums
Look for "Autism Help" app at the Google Play Store