I want to share this with you because my admitting this and talking about it, perhaps we can quash some of the stigma associated with families in need.
Unfortunately, our lives have taken a turn for the more challenging. 
The issue with my bank haven't been worked out yet and I'm beginning to think they never will. Anyway, that's really put a hurtin' on our financial situation.  We basically lost $2,400 and that has been devastating for us. 

We aren't able to absorb that kind of loss or any loss for that matter. 
Unfortunately,  we have hit a point that we were in desperate need of help.  In order to make sure our family survived this period of time we had to visit a local food bank.  Rather, Lizze went because it was easier than staying home with boys and it's something that she wanted to do for our family.
I'm truly grateful for her doing this for us.  I've had my share of swallow my pride moments as well.  It's not easy and in my opinion, takes a great deal of courage.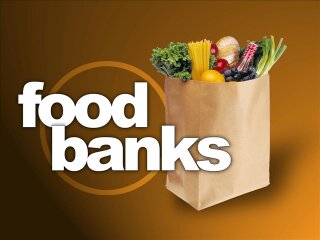 I'm aware that there is a stigma attached to things like this because people tend to make assumptions about those who have to visit these places. 
You would be really be surprised at the type of people that visit the food banks. 
We've met teachers, small business owners, parents and grandparents.  People who you wouldn't realize like, friends and family have been to these places as well.
There's nothing to be ashamed of because you're far from the only one that has fallen on hard times. 
Will people judge? Sadly, they will. 
Should you let this get you down? Absolutely not! It's not easy to shake off that kind of judgement but seeking help for your family is not something to be embarrassed of. 
In my opinion,  it takes a courageous person  to swallow their pride and walk into one of these places and admit that you need help.  You should be proud of yourself for having the wherewithal to do that. 
I can't really articulate just how proud of Lizze I am for not only doing this today for our family, but doing this for our family while she's in as much pain as she was.
I would have liked to go with her but we didn't want to expose them to this. Not because we were ashamed but rather because we didn't want to worry them, especially the King of Anxiety himself, Elliott.  As far as they are concerned, everything is just fine and that's the way it should be. 
Truth be told, I wish things were different and this kind of thing wasn't necessary. I'm doing everything in my power to be as self-sufficient as humanly possible, all while having my hands tied behind my back. All I can do just isn't enough right now. 
While,  I'm not ashamed to admit that we need help, I'm not proud of it either. 
With that said, I'm so incredibly thankful that there is help available and that we are strong enough to graciously accept it.
Please don't ever let anyone bring you down for seeking out help when you need it most.  Whenever you do what's best for your family, you should be proud, especially when it's not easy to do. 
This site is managed via WordPress for Android, courtesy of the @SamsungMobileUS Galaxy Note 2 by @Tmobile. Please forgive any typos. I know how to spell but auto-correct hates me.  😉
For more ways to help the Lost and Tired family, please visit Help the Lost and Tired Family.