Today was one of those days when we get news about one of our kids that really makes us feel like an epic failure.
I mentioned earlier that Emmett was going to be at Akron Children's Hospital today for an eye exam. We've been noticing that he seems to have trouble with his vision and so we wanted to get him in.
Turns out that his vision is really, really bad. 

His right eye sees 20/200 and his left eye sees 20/80. This means that his right eye sees things at 20 feet away as though they are 200 feet away.  His left eye sees things at 20 feet away as though they 80 feet away.
Obviously he has a Stigmatism and I believe they said near sighted. He can see things close up but not at a distance.
The doctor and his staff were amazing with Emmett.
They were also pretty amazing with Emmett's set of freaking out parents.
The doctor said that with any luck, the glasses will help to improve Emmett's eyesight. I guess his eyes are underdeveloped and the glasses will help them to catch up.  He said if the glasses haven't made a difference  y the time we go back in 2 months, Emmett will have to wear an eye patch over his left eye so that his right eye is forced to do all the work.
To Emmett's credit, this was a painless process.  He never complained and behaved like an angel.
After the appointment, Lizze and I both feel like epic failures because since birth, Emmett has really been able to see much. How did we miss that? I feel terrible that he has gone this long before his vision was corrected.
The doctor said that kids adapt so well that it would be easy to miss something like this.  I appreciate that but it still feels like we dropped the ball. I think most parents would feel guilty.
We took Emmett to pick out his new glasses and we also picked up a case, a strap to hold them on and a cheap pair of reading glasses for him to practice wearing until his new glasses are ready in about a week. 
God love him because he's thrilled to death to be wearing glasses.
I hope that lasts because it's extremely important that he wears them so that his eyes can get better.
It's never a dull moment………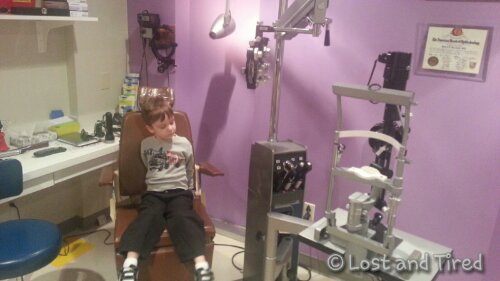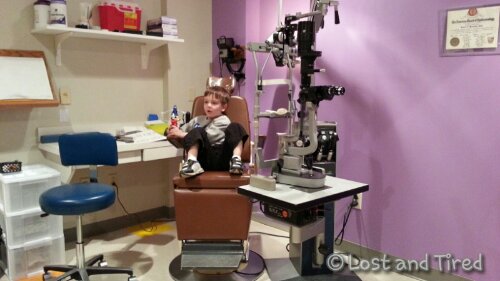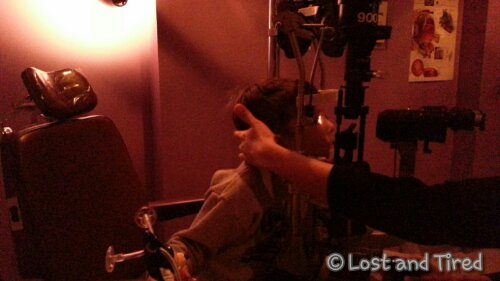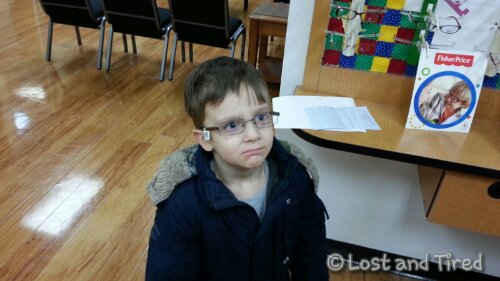 This site is managed via WordPress for Android, courtesy of the @SamsungMobileUS Galaxy Note 2 by @Tmobile. Please forgive any typos. I know how to spell but auto-correct hates me.  😉
For more ways to help the Lost and Tired family, please visit Help the Lost and Tired Family.