Those of to you that know me know that I'm a huge proponent for using technology to aide in improving the lives of children and adults on the autism spectrum.
There are so many different pieces of technology to choose from and I have found that some things work better than others. 
However, I personally find that as far as tablet technology goes, android based devices are vastly superior to things like the iPad by Apple.  Do t get me wrong, the iPad is a great device but it's very overpriced and doesn't allow for user customization.

Because Android is an open source technology, there tons and and I mean tons of devices to choose from.  Prices very depending on what you are looking to purchase.
I wanted to give you an example of how an Android device is helping my youngest with Autism, to practice his letters, number and shapes.
The device that Emmett is using is called the Galaxy Note 2 and it's by Samsung.  This particular device is a hybrid.  It packs the best features of a smartphone and a tablet and blends them to perfection.  The result is a device with a very large screen and a stylus that let's you write, with digital ink, directly on the screen.
As you can see, Emmett is using that stylus, called the S-Pen, to trace his letters and color a picture.
It's just like writing on a piece of paper only better and more engaging.  Emmett loves using the S-Pen to draw pictures and practice writing his name.  The really cool thing is that he can take it with him, pretty much wherever he goes.
The S-Pen is significantly different then the aftermarket stylus you can buy for the iPad.  This is a fine tip pen and literally detects the amount of pressure you apply to the screen.  For example, more pressure means a thicker line. Less pressure means a finer line. 
Technology is amazing and can have such a huge impact, especially when in the hands of a person that really needs it.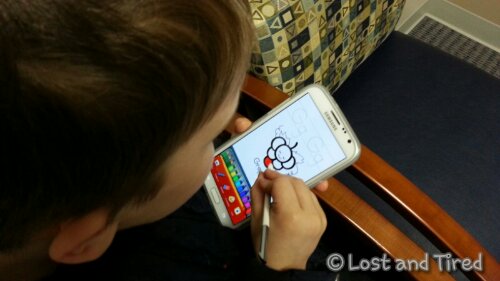 This site is managed via WordPress for Android, courtesy of the @SamsungMobileUS Galaxy Note 2 by @Tmobile. Please forgive any typos. I know how to spell but auto-correct hates me.  😉
For more ways to help the Lost and Tired family, please visit Help the Lost and Tired Family.