I realize that by putting myself out there like this, I open myself up to people's opinions. Usually, I do think have a problem with hearing what my readers think. In fact, I actually like hearing from people and learning what they think.  Many times, I'm met with incredible insight and amazing advice.
Having said that, recently there seems to be a great deal of negative, to the point I actually made my YouTube channel private.
You would not believe the hateful comments I received from people who took the videos out of context and failed to see what I was trying to do.  I didn't even respond to them and even stopped reading them altogether.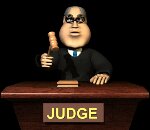 I even get comments from people on the blog who read one or two posts and decide that we just can't do without their ignorant and hateful comments.
Look, I realize that it's easy to judge based on reading a few words.  However, I ask that you please get to know us and our story before making up your mind about who we are and why we do the things that we do.
It's really easy to judge a family, especially when that family has to say and do things in a certain way because our kids need to be handled in a very specific way. In our case, it comes down to Gavin and the unusual approach we have to take in order to accommodate his behavioral problems. 
Gavin has many challenges but one of the most challenging is Reactive Attachment Disorder.  People make way to many assumptions because a lot of the symptoms are similar to that of Aspergers.  However, and this is a big however, the motivations behind the behaviors are very, very different.  If we responded to him as though he were simply a child with Aspergers, things could get very dangerous.  Not only that but we wouldn't be helping him.
When you are a special needs parent, you have to make a choice in the very beginning.  Either you are going to do what's best for your child or your going to care about what other people think.
We have to do many things for our children that may seem mean or even cruel to those outside the window, looking in.  However, there is very often a rhyme  and reason for everything we do. 
Speaking for my family, we handled Gavin the way we did because we love him and we have to address the behaviors before he's to old to learn new ways of doing things. For those of you unfamiliar with reactive attachment disorder, you have to address the behaviors and promote change from within before their mid-teens.
Trust me when I say that having to parent with way feels terrible and unnatural.
However, at some point, you have to put your faith in what your team of medical experts tells you, must be done. This is especially true, in the absence of a instruction manual.
My family is walking a path that many others will never lay eyes on. That's both a good thing and a bad thing. 
I take comfort in the fact that not many people know what our lives are like, first hand. That means not too many people have to endure what we do.  However, on the other hand, that also means fewer people will be able to personally relate.
Please, before you leave a comment on my blog or any other special needs parenting blog, really think about what your message will be and how it may be taken. If there's something you don't understand or have concerns about, simply ask. I welcome questions because I get a chance to educate and help people to become more informed about what we are going through.
Life for a family like mine, is challenging on the very best of days. Having said that, we never give up and try our best to take everything in stride.
Again, I don't mean to sound like I'm complaining.  I also want to make it very clear that I'm not referring to people that simply share a different opinion.  I'm talking about ignorant, hateful and hurtful comments.
This site is managed via WordPress for Android, courtesy of the @SamsungMobileUS Galaxy Note 2 by @Tmobile. Please forgive any typos. I know how to spell but auto-correct hates me.  😉
For more ways to help the Lost and Tired family, please visit Help the Lost and Tired Family.