I just arrived to the ER and have gotten settled in and up to speed. My mom picked me and Emmett up and I dropped them off at her house.  On the way, we almost got into a wreck when some dude in a truck came within inches of smashing into us. 
Anyway, as I walked I to Gavin ins room, they were struggling to get him to cooperate with his IV and he was freaking out. 
I got there in the nick of time to help calm him down and the awesome staff got the IV placed.  Gavin is receiving a bolus of fluids to help stabilize him.  I'm not sure that's going to help though.  It may actually be contraindicated because he's on meds to retain fluids and while the bolus is correct I  most situations like this, I'm worried that won't have the intended affect.

As far as I know, we are waiting to hear back from The Cleveland Clinic as well as the results from the lab. 
Thank God this happened here and not at home. 
He's in a good place and Akron Children's Hospital always, always takes good care of him.
Mom,
Emmett was worried before we left so Emmett these pictures are for you little man.  Gavin is sitting in a bed resting.  He has an IV to help his body get better.  The wires you see are to help the doctors keep track of his heart rate.  No worries Emmett, Mommy and Daddy are going to take good care of your big brother.  Be good for Grandma….   🙂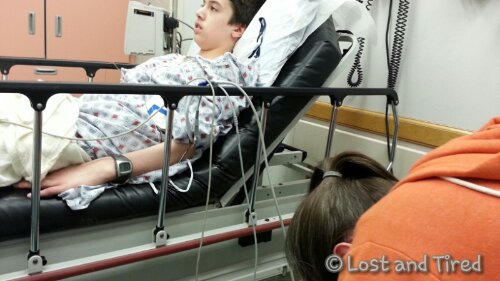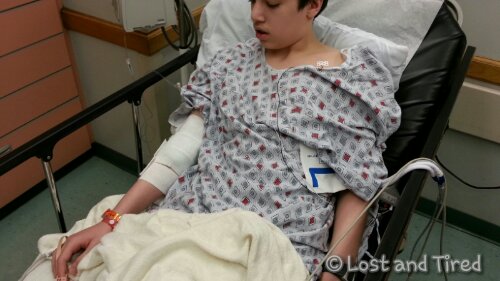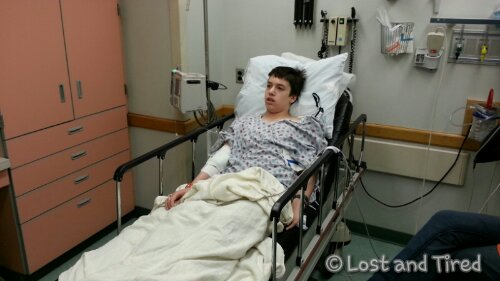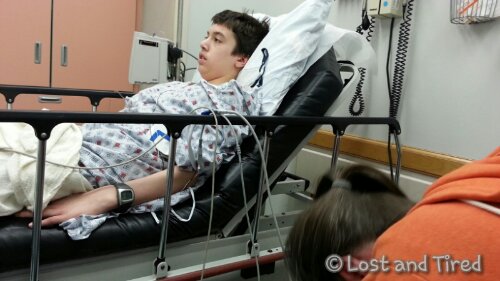 This site is managed via WordPress for Android, courtesy of the @SamsungMobileUS Galaxy Note 2 by @Tmobile. Please forgive any typos as autocorrect HATES me. 😉
Check out my #Autism Awareness Store to find really cool and unique #Autism Awareness Clothing and Accessories, designed by me. 😉
For more ways to help the Lost and Tired family, please visit Help the Lost and Tired Family.