As Autism Awareness Month creeps closer and closer, I'm going over my goals for the month of April,  as well as, working on few things I'm trying to make happen.
Personally, I think Autism Awareness Month has become way too commercialized and subsequently has lost a lot of its meaning.
As the years go by, I've begun to lose faith in Autism Awareness Month altogether.

I've shared my opinion of the whole light it up blue campaign. To me, lighting it up blue brings awareness to Autism Speaks and does not necessarily shine the light on Autism, at least in any meaningful way.
I'm not discouraging anyone from screwing in a blue light bulb.  I'm simply asking you this. If April is supposed to be about the people with Autism and helping the world to better understand and accept them, how exactly does advertising Autism Speaks help anyone I  real life?
Think about it, what does the color blue represent anyway? What does it have to do with Autism, accept bring attention to Autism Speaks.
I'm not saying there's anything necessarily wrong with Autism Speaks. I just wonder why we give them more attention than we do the people actually touched by Autism.  I mean, we should be shining the light on the families that are struggling with Autism, each and every day. 
My belief is that if we help people to better understand what Autism is really like for our children, both young and old alike, we can help them to better relate and understand.
I also believe very, very strongly that we need to stop ignoring the adult Autistic community and acknowledge that they don't necessarily need anyone to speak for them because they have their own voice.
There is so much we can learn from the adult Autistic community. Not only can they help the world better understand Autism but they have provided invaluable insight into the lives of my kids. I'm so incredibly grateful for that.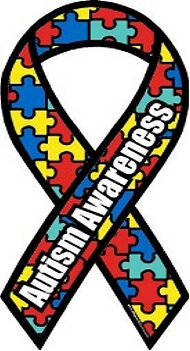 In my opinion, it's one thing to advocate for our children when they are too young to do so themselves. It's another thing entirely to dismiss the voice of an popular of people simply because we think we know better.
Autism Awareness Month has become a giant fundraiser for many organizations and I often question where that money goes and how many people in real life actually benefit.
Perhaps instead of looking at Autism Awareness Month as a means of making money, we could maybe help make it about the people and families that are struggling or need help. I think they could use the help and attention  a lot more than some of the multimillion dollar charities.
This is why I've made the very personal decision to sorta do my own thing.  One of my goals is to continue paying it forward in the name of Autism Awareness. 
I'm going going to try and donate more tablets, gift certificates and anything else I can get into the hands of my readers and those that need it.  I don't make anything off of doing this and any attention this generates goes to further spread Autism Awareness, information and education, throughout the community.
What do you want to see happen this year during Autism Awareness Month? What are your plans?

This site is managed via WordPress for Android, courtesy of the @SamsungMobileUS Galaxy Note 2 by @Tmobile. Please forgive any typos as autocorrect HATES me. 😉
Check out my #Autism Awareness Store to find really cool and unique #Autism Awareness Clothing and Accessories, designed by me. 😉
For more ways to help the Lost and Tired family, please visit Help the Lost and Tired Family.