This past week or so, Elliott has been more anxious than usual and that's impacting him on multiple levels.    For starters, I was approached be the principal at Elliott's school the other day because she's worried about Elliott. 
We have a very close relationship with our kids school and so we talk all the time. 
Apparently, Elliott's been refusing to eat while at school and that's concerning to all involved. She wanted to let us know so that if there was anything they could do to help support Elliott, they wanted to help.

I was of course concerned to hear that but at the same time, not surprised. Elliott really been struggling lately. 
He's an emotional roller coaster and wound way too tight.  I know a good portion of this is a result of being around Gavin last week.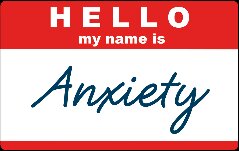 Gavin did really well last week,  but the boys are dealing with PTSD from everything Gavin has done to them in the past.  He could never have another another outburst and the boys would still have this type of visceral reaction.
As time goes by, Elliott will work out of this but he's been hit with a trifecta of sorts.  First we have Gavin in the hospital last week, which had everyone worried and concerned. Then Gavin was home for the rest of the week. Elliott was also sick and off school last week as well and then of course we have my arch nemesis, Daylight savings time.
That's a lot for anyone to handle, let alone an extremely sensitive little boy with Aspergers, that's already prone to high levels of anxiety.
Emmett's having a bit of a rough time as well and putting the two boys together exacerbates things and it like the perfect storm.
Thankfully, Gavin's doing okay and seems to be relatively stable at the moment. That's a load off everyone's mind.  Hopefully, we can sorta pick up and move forward.
The weathers turned crappy again but Spring is right around the corner and that means  I certainly weather and frequent trips to the playground.  🙂

This site is managed via WordPress for Android, courtesy of the @SamsungMobileUS Galaxy Note 2 by @Tmobile. Please forgive any typos as autocorrect HATES me. 😉
Check out my #Autism Awareness Store to find really cool and unique #Autism Awareness Clothing and Accessories, designed by me. 😉
For more ways to help the Lost and Tired family, please visit Help the Lost and Tired Family.