The Autism Awareness Challenge
It's really sad that my hometown doesn't invest in Autism Awareness Month, at least not that I can tell. The Canton Repository, aside from the article about me last year, never seems to take interest in the Autism Community.
As one of the leading Autism bloggers around, I would love to think that the city, I call home, would be Autism Aware.

Sadly, I don't believe that to be the case.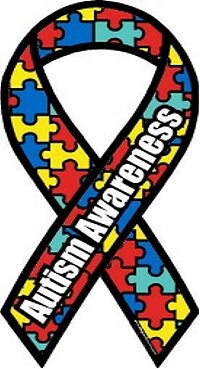 The City of Canton and The Canton Repository will go all out for Hall of Fame Week, every single summer, but nothing for Autism Awareness. It's really sad, that retired athletes seem to be more important than our children's future.
As I recall, there was at least one company that did something last year and I believe that was Panera Bread.
My question to both the City of Canton and The Canton Repository is why?
I realize that working with the Autism Community doesn't bring in the tourist dollars that  the Pro Football Hall of Fame does, but why not at least make sure everyone knows that April is Autism Awareness Month?
I know that I feel ignored and I can imagine that other families feel the same way.
What does it take to really get your attention?
How about a being featured on CNN Health? Wait, I was: Little people, lots of pills: Experts debate medicating kids.
How about being published by CNN Health? Wait, that happened as well: A heart shattered by a glimpse into autism.
One of my goals with the above two CNN articles was to bring attention to the Autism Community here in Stark County, Ohio. In a way, I succeeded because I connected with many new Autism families and learned more about what needs to change around these parts.
I'm really hoping to make a difference in not only the lives of my family but the many others families out there as well, that have been touched by Autism….
The Challenge
I'm issuing a challenge to both The City of Canton and The Canton Repository to show the Autism Community that we haven't been forgotten. Let's see some Autism Awareness banners around town. Let's see some Autism families featured in the newspapers.
Here's the reality of the situation as per Autism Speaks:
 Autism statistics from the U.S. Centers for Disease Control and Prevention (CDC) identify around 1 in 88 American children as on the autism spectrum–a ten-fold increase in prevalence in 40 years. Careful research shows that this increase is only partly explained by improved diagnosis and awareness. Studies also show that autism is four to five times more common among boys than girls. An estimated 1 out of 54 boys and 1 in 252 girls are diagnosed with autism in the United States.

By way of comparison, more children are diagnosed with autism each year than with juvenile diabetes, AIDS or cancer, combined.* ASD affects over 2 million individuals in the U.S. and tens of millions worldwide. Moreover, government autism statistics suggest that prevalence rates have increased 10 to 17 percent annually in recent years. There is no established explanation for this continuing increase, although improved diagnosis and environmental influences are two reasons often considered.
Unfortunately, odds are that in your lifetime, you will be touched by Autism somehow, if it hasn't happened already.
The Autism Community needs support. Our kids, both young and grown, need to be understood and accepted. Our families, especially those that are struggling, need help to survive.
I'm willing to work with anyone that wants to help make a difference. I would like to see this help come by way of our community leaders as leading by example is a great way to help educate the public.
Should anyone decide to take on this challenge, you can Contact Me.
If you would like to help me put pressure on my hometown you can do so here at the following links:
The Canton Repository on Facebook
I would encourage everyone to issue this challenge to their local community leaders and see if we can make this the best Autism Awareness Month yet.