Unfortunately, as if we didn't have enough to worry about already, there have been a string of attempted break-ins over the past 4 weeks. Server also of my neighbors have been targeted already.
Apparently, the would be thieves are casing the houses in my neighborhood prior to their attempts.
This evening, I think we may have been cased. A woman showed up at our front door, with some bullshit story about looking for someone that just moved in.

It was clear that she was either an idiot or she was lying to me because her story was just completely out there and made no sense.
I'm giving her the benefit of the doubt and will assume that she was lying to me.
The goal of someone casing out a house is to get an idea of its occupants. They are looking for alarm systems and dogs, in particular.
Lizze and I are really uncomfortable and so I'm standing guard at night now. I'm camping out on the couch with Bella, Maggie and Louisville Slugger, just in case someone decides to pay us a visit. 
Maggie and Bella don't take kindly to strangers approaching our house and defend us with their last breath. We also have the whole house monitored by our alarm system as well.
Having said that, with all the gangs, drugs and random violence, it's getting more and more difficult to keep my family safe. I have to figure something out, ASAP.
No one feels safe anymore.  🙁
I realize crime is everywhere but we had our van broken into, at least twice. We've had someone shot, stabbed and partially eviscerated in front of our house. I provided first aide until the medics arrived. I was almost killed in a drive by shooting a few weeks later. Then of course, our van was stolen as I was walking out to put the boys in the car to take them to school and now this.
We really, really need to get out of here. Canton, Ohio is going right down the crapper. It's both scary and sad….but mostly scary. 🙁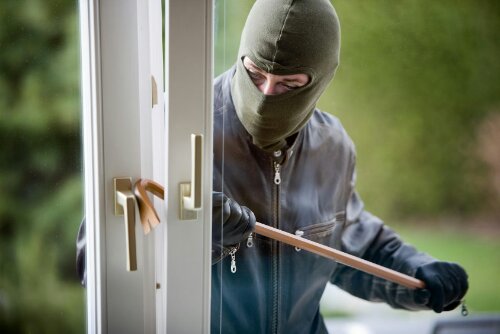 This site is managed via WordPress for Android, courtesy of the @SamsungMobileUS Galaxy Note 2 by @Tmobile. Please forgive any typos as autocorrect HATES me. 😉
Check out my #Autism Awareness Store to find really cool and unique #Autism Awareness Clothing and Accessories, designed by me. 😉
For more ways to help the Lost and Tired family, please visit Help the Lost and Tired Family.