I received a call from Summit Academy this morning.  Gavin is in the office, in tears because his eyes hurt so bad.  The secretary told me that Gavin's eyes began hurting and we're really itchy.  Now they were extremely read and he was calm but upset.
I had to go bring him home. 
Lizze was sleeping because she's not feeling well and I had to wake her up. 

Because of the RAD and the dynamic that their relationship has taken on as a result, I needed to prepare her for him to come home.  She was 100% on board and told me to bring him home quickly so she could give him some benadryl and hopefully relieve his distress.
At this point, Gavin is medicated and sleeping in his bed.
When I got to him at school, he was sitting just outside the office, sobbing. 
His eyes were very, very red.  Around his eyes almost looked bruised from him rubbing them.  Although, it didn't show up well in the picture. 
Here's my concern, rational or not.
He's never had this type of reaction before.  He's on allergy meds already but I don't ever remember anything like this before and neither does Gavin. 
I have a million things running though my head right now. 
Is this just allergies, albeit new ones? Is this something else? Should we be concerned? Is this a sign that something is changing within him?
I may sound paranoid but when you have a child like Gavin, that charts new territory with his life threatening and  bizarrely rare health issues, there's no way to know for sure.
Most of what we know about him was discovered somewhat by accident and because of something random thing that showed up out of nowhere.
Call me paranoid but I'm paranoid for good reason.
We are going to call his allergist/immunologist today and find out what she wants us to do.  All we can do is have him seen so that we can either discover the new chapter in his life or put our fears to rest because it's just allergies.
My body was not meant to handle this amount of stress. 🙁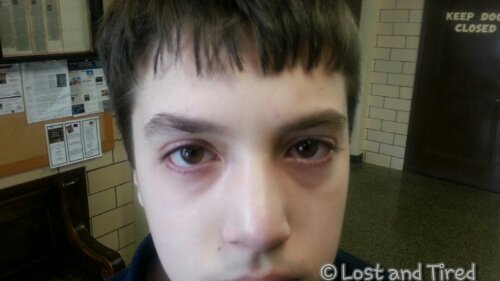 This site is managed via WordPress for Android, courtesy of the @SamsungMobileUS Galaxy Note 2 by @Tmobile. Please forgive any typos as autocorrect HATES me. 😉
Check out my #Autism Awareness Store to find really cool and unique #Autism Awareness Clothing and Accessories, designed by me. 😉
For more ways to help the Lost and Tired family, please visit Help the Lost and Tired Family.