If there was only one common  thread between all kids, especially boys, it just might be their love of video games.  All three of my boys on the spectrum love playing video games. 
In Gavin's case, video games have not always been a good thing for him. 
Much of Gavin's life has been lived with almost no threshold for frustration.  Gavin can go from zero to frustrated in the blink of an eye.  Video games were a huge, huge trigger.

Elliott and Emmett do really well with video games.  Elliott doesn't always want to turn them off when it's time, but he's getting better. 
Gavin was always drawn to the violence that can be in a game.  He was never aloud to play violent games and that didn't go over well at times. 
Elliott is drawn to games that let him create his own world.  Games like Minecraft, Portal, Portal 2 and Age of Empires are among his most favorite.  Emmett on the other hand, doesn't really have a preference because typically he wants Elliott to actually play for him, so he can just watch.
Video games have been a blessing and curse in our family. We limit their screen time son they can't play endlessly and only allow them to play what we feel is appropriate for them.
Lately, Elliott has been getting back into Portal 2 and creating his own levels. 
Watching him create these world's and use his imagination is truly amazing.  He has a beautiful mind and it's jaw dropping to see the things his mind is capable of.
Do your kids play video games? What games do they live to play and how do you find balance?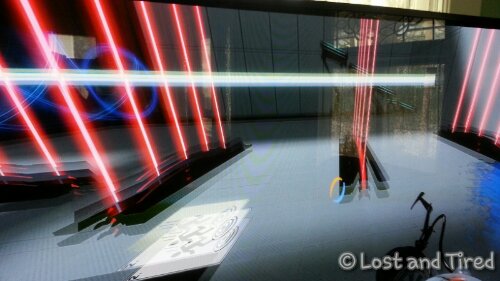 This site is managed via WordPress for Android, courtesy of the @SamsungMobileUS Galaxy Note 2 by @Tmobile. Please forgive any typos as autocorrect HATES me. 😉
Check out my #Autism Awareness Store to find really cool and unique #Autism Awareness Clothing and Accessories, designed by me. 😉
For more ways to help the Lost and Tired family, please visit Help the Lost and Tired Family.