I've been meaning to ask this but always forget. Do you find that your hometown, city, village or whatever, is Autism Aware?
The reason I ask is because I find myself really frustrated because the city I call home, isn't…at all.
I live in Canton Ohio, home to the Pro Football Hall of Fame.  We have absolutely no Autism Awareness in my town.  This is extremely frustrating and even offensive because they're already talking about this year's Hall of Fame Week.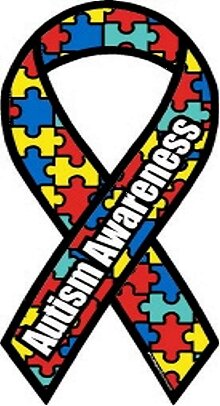 I don't know what I have to do to get someone's attention. 
I've written emails to our local newspaper, without ever receiving a response.  I've taken to Facebook and Twitter and offered to help in anyway that I can. Not one single response.
Our local newspaper, the Canton Repository, hasn't printed a single word about Autism Awareness Month. 
My town is more worried about high school sports and everything that goes on with the Pro Football Hall of Fame. 
What about our kids?
Would it kill them to announce Autism Awareness Month, like they do for other things like Breastfeeding Cancer Awareness Month? Clearly it would.  What does it take for people to pause their all important lives and simply pay attention?
Are sports really that important? Is honoring retired football players more important than calling attention to what is likely the most serious epidemic facing the human race in a very long time?
1/50 kids are now diagnosed with Autism. 
In my opinion, that's a pretty big friggin deal.
I even spoke with our local NBC affiliate and offered to work with them to do something to help the Autism Community.  They wanted to do an interview but than disappeared. 
I don't have an endless supply of energy and resources. I have my own family that I'm struggling to provide for.  However, I have a vested interest in seeing my community for supportive and aware of the families living all around them that have been touched by Autism. I feel like if I just curl up in my shell and only worry about our lives, I'm doing a huge injustice to my kids down the road when it's time for them to venture out into the world. 
My goal has always been to be the change I want to see in the world. 
It's getting harder and harder to keep this all going, especially in a city that seems to values athletes over the future of an entire generation of kids. 
How does one combat that?
I'm ashamed to say that the hometown of the 3rd most influential Autism blogger in the United States is far from Autism Aware.  You would think that they would take notice and want to work together to create more resources for those touched by Autism and their families. 
I guess not? This feels like an epic fail and one that falls squarely on my shoulders. 
Do you find yourself in a similar situation where you live? Is anything  being done for Autism Awareness Month in your hometown?

This site is managed via WordPress for Android, courtesy of the @SamsungMobileUS Galaxy Note 2 by @Tmobile. Please forgive any typos as autocorrect HATES me. 😉
Check out my #Autism Awareness Store to find really cool and unique #Autism Awareness Clothing and Accessories, designed by me. 😉
For more ways to help the Lost and Tired family, please visit Help the Lost and Tired Family.