Here's the update to Elliott's trip to pediatrician this afternoon.  As predicted, Elliott spent the afternoon freaking out about having to visit the doctor. 
Having said that, I figured out something that was able to redirect him. 
I tethered Elliott's old Samsung tablet to my phone and setup the GPS and Google Navigation.  He spent the entire 30 minute drive navigating.  It was really cool for him because he felt some control and he got to watch our car moving along the road, in real time. 

He did great.
When we arrived and we're meeting with his doctor, he did even better. 
As we thought, Elliott has sinusitis.  Apparently, we never got rid of it entirely.  This is the third or fourth round of sinus infection in the last 2 or 3 months. 
What we are going to do is try a much heavier duty antibiotic for the next 20 days. 
If this doesn't clear things up, he's going to need a head CT, in order to see what his sinus cavities look like. Then we will probably be referred to the ENT and also to immunology.  There is some concern over whether or not there is an underlying immunodeficiency. 
Right now we aren't going to put the cart before the horse.  We're going to wait and see if we get this cleared up with this round of antibiotics  before doing anything else. 
We just have to have a plan b.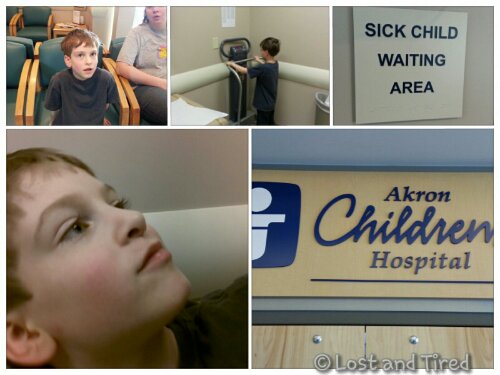 This site is managed via WordPress for Android, courtesy of the @SamsungMobileUS Galaxy Note 2 by @Tmobile. Please forgive any typos as autocorrect HATES me. 😉
Check out my #Autism Awareness Store to find really cool and unique #Autism Awareness Clothing and Accessories, designed by me. 😉
For more ways to help the Lost and Tired family, please visit Help the Lost and Tired Family.