OMG, today have been a trying day. 
As you know, Lizze had her appointment with Orthopedics at the Cleveland Clinic this afternoon.  She's been having problems with her knees for many years, steaming from a major injury during years as a gymnast. 
We are in desperate need of a break from bad news. 

It's kinda like bad news and good news are divorced parents that can't seem to ever come to terms with anything.  They completely ignore the visitation schedule that states that we want to see the good news along with the bad.
Unfortunately, that's not what happens in our lives. 
So here's what went down today. I swear I couldn't make this shit up if I tried. 🙁
This morning, Lizze got another email from her new OB/GYN at Cleveland, informing her that her vitamin D levels are dangerously low.  She's at a 15 and from what I've read, a healthy level is anywhere from 30-110. She has to go back on prescription strength vitamin D. 
While we were on the way to Lizze's appointment, I got an email from babble.com telling me that my Facebook page is in the top 30 of Autism related Facebook pages.  I was pretty excited as I've been trying really hard to improve the Lost and Tired fan page.
I was feeling pretty good as we arrived at the Cleveland Clinic today.
The whole vitamin D thing with Lizze can be corrected and I just won an award.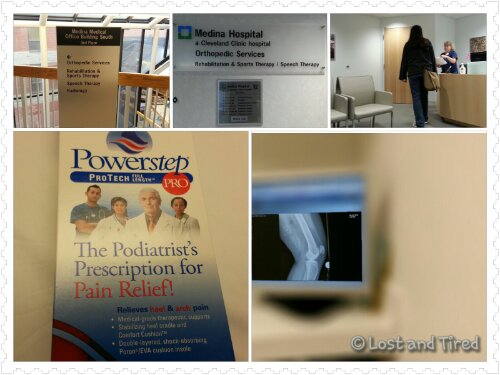 Before I can walk in the door of the hospital, I get another email from babble.com, retracting the previous email as it was a mistake. Man,  that sucks but life moves on and today was about Lizze and not me. 
Lizze had her xrays done and we got back to see her new doctor quickly.  The doctor said that the film looked pretty good and only showed very minor signs of arthritis.  Hell yeah!
Finally, some good news. 
I was totally afraid that she was going to need surgery. She was diagnosed with something called J band syndrome. While this is very painful, it can be worked on in physical therapy. 
Did I say hell yeah already?
We arrive to my parents house to pick up the boys and head home.  The moment Emmett gets into the car and for about the next 45 minutes,  he literally screamed and screamed and screamed.  He did eventually stop but only to become super hyper and has been bouncing off of everything in sight.  🙁
After we finished dinner and had sorta come down from the almost hour of screaming, I get a phone call……
It's Lizze's new orthopedist. She is personally calling because after reviewing her xrays a second time, she found something wrong with the tip of her femur.  It's something to do with a divit and cartilage honestly, as soon as I realized it was bad news, my brain just shut down.
In 5 minutes we went from everything is okay to needing an MRI and possible surgery…. 
Fucking shit……….. Goddammit… Son of a bitch.

This site is managed via WordPress for Android, courtesy of the @SamsungMobileUS Galaxy Note 2 by @Tmobile. Please forgive any typos as autocorrect HATES me. 😉
Check out my #Autism Awareness Store to find really cool and unique #Autism Awareness Clothing and Accessories, designed by me. 😉
For more ways to help the Lost and Tired family, please visit Help the Lost and Tired Family.