I'm totally aware that the meltdowns are not their fault. I also know the difference between a meltdown and a tantrum.
What I don't know, is how much more I can take today.
Good lord, it feels like it's been one meltdown after another.  Emmett's been a constant stream of screaming and melting down,  over God only knows what. 

Trust me, if I could identify the stressor, I would do horrible things to it and make it go away and leave him alone.  Of course, if the stressor is one of the other boys, that would make me a monster so scratch that idea. 
The ugly truth is that even though I know, these meltdowns aren't his fault, they are quite literally driving me crazy. 
I can feel myself cracking on the inside and so I had to go wake up Lizze who was trying to get some rest, after giving me a nap. 
As I'm writing this, I can hear him freaking out.  I'm hiding upstairs right now so I can collect myself.  Sometimes, even grown up have to put themselves e's into time out so that they can get themselves under control.
There's nothing wrong with feeling frustrated and overwhelmed by your Autistic child.  This is however something wrong with letting yourself get so frustrated that you snap and say or do something, you will later regret.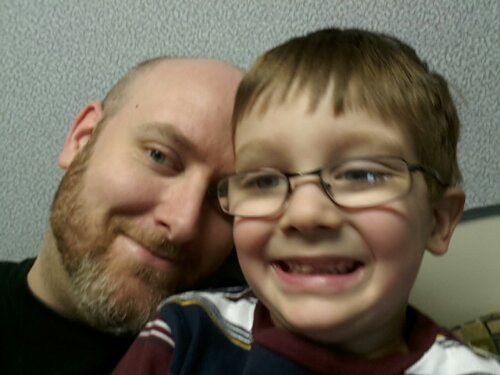 Look, I'm human and have an entire friggin buffets worth of crap, all crammed onto my tiny plastic plate. 
I know what it's like to feel frustration, exhaustion and even anger or resentment because of behavioral issues related to my special needs kids.  In fact, at times, I'd swear that I have the market cornered. 
Having said that, those feelings are just a part of my biggest weakness.  That weakness, is being a human being tasked with super human responsibilities. I would probably be more worried if I never felt these things.  It would make me feel like I was a ticking time bomb. 
Personally, I've chosen to embrace these feelings and not best myself up over them. 
I love my boys more than anything in the world.  Feeling frustrated or even resentful of their behavioral issues doesn't change a damn thing. 
All it does is show that I'm still only human….

This site is managed via WordPress for Android, courtesy of the @SamsungMobileUS Galaxy Note 2 by @Tmobile. Please forgive any typos as autocorrect HATES me. 😉
Check out my #Autism Awareness Store to find really cool and unique #Autism Awareness Clothing and Accessories, designed by me. 😉
For more ways to help the Lost and Tired family, please visit Help the Lost and Tired Family.