It's not too often that I feel the need to really address something that has happened to my family,  in the form of an open letter.
This is one such occasion.
My hope is that by sharing this openly, we can all learn a valuable lesson.

A couple of hours ago, child protective services showed up at our door.  Apparently someone lodged a complaint this morning and they have launched an investigation.
That's my understanding.
I spoke with two social workers from Stark County Children Services Division, while standing on my front porch.
They explained that it had been reported that we are not seeking proper medical care for our children. They also said that we have been accused of not taking them to their follow up appointments as well.
I was in absolute shock.
I mean, who would do something like this?
Of course we take our kids to get proper medical care. We go to the ends of the earth for our kids.  Not only do we have all the medical records and an army of doctors and specialists but I document everything on this blog.
I became defensive and listed off everything that we are involved in.  Support services, OT, PT, speech, Akron Children's Hospital, the Cleveland Clinic, Wraparound, DD, Family Services etc.
The list goes on and on.
The social workers were very, very pleasant and I was pretty upset but keeping my cool.
They won't say who made the accusations because they have to protect their privacy while they invade ours.
The workers want to interview the boys, Lizze, myself and want access to medical records for the boys.  We have nothing to hide so this shouldn't be a problem? Right?
I don't know that there is a right or wrong here.
In that moment, I denied them access to anything because I want to make sure I understand what's going on and what my family's right are.
It's easy to prove the accusations false, I mean really? If you were going to make up false allegations about my wife and I, you'd need to be a bit more creative than we don't take our kids to the doctor.
Here's the problem and my issue with this whole thing.
Where's their proof? Why is it that someone can make a ridiculous statement like, we don't get our kids proper medical care and all of a sudden the burden of proof shifts to us?
Why is it necessary to interview my three special needs boys when all they should need is proof that we take our kids to the doctors?
I know this won't go anywhere but that doesn't mean there won't be damaged done in the process of proving ourselves once again. This is an invasion  of our privacy based on some concerned citizen making a false statement.
The fact that I share on this blog doesn't mean that our privacy can't be invaded.  Lizze and I choose what we want to share.
Here's the thing.
Whoever did this, did this with the sole purpose of creating upheaval in our lives.  They want to make us suffer for some unknown reason.  They aren't concerned about the boys.  This is 100% malicious and that upsets me.
Instead of this person having to provide credible evidence to back up their claims, we have to turn our lives upside down in order to prove them wrong.
This is a huge flaw in the system.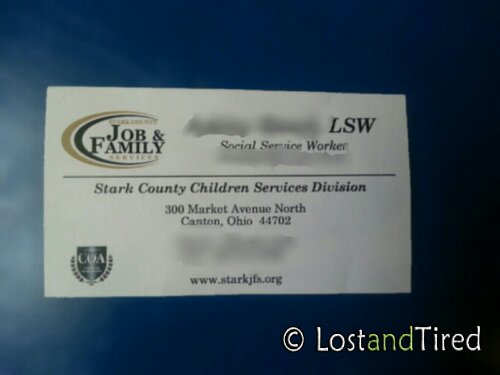 I understand that these social workers are doing their jobs and I totally respect that.  However, there should be some kind of vetting process to weed out the totally ridiculous complaints like this.
Whoever, filed this report is not only wasting taxpayer dollars but they are tying up valuable resources that are need for children that are truly in danger.
As a special needs family, life is hard enough as it.
Having to put everything aside, including taking care of my kids health, is not something that we need.
I'm greatly concerned about the impact that proving our innocence is going to have on the boys.  This is very stressful and we've been though this when we were fighting Gavin's abusive biological father.
We lived from one false accusation to the next.  Each time we had to open our lives up and deal with the violation.
Every single time, they were proven false but the damage was already done.
I appreciate the job that a social worker does.  They are overworked and underappreciated.
Having said that, at what point do we exercise common sense and avoid these situations all together?
Myself, along with several of my neighbors had called child services on a woman that lived across the street from us.  In fact we called quite a few times.
This woman was locking her young kids out of the house during the day.  Her barely walking infant/toddler would run around unsupervised and naked outside. The other kids were playing is trash and wandering the street.
We never got this type of response from anyone and these kids were in imminent harm.
The system is flawed and needs to be fixed.
If you make false allegations about a family as fragile as ours, regardless of whether or not there is any validity the the claims, you do damage.
I realize that I've become a public figure of sorts but that doesn't warrant any of what's about to happen to my family.
Am I over reacting? Maybe I am.
……..but you know something? This is wrong and it's a violation and it should have been shutdown before even making it this far.
When all this is said and done, I will be exploring our options.  I'm thinking that their is something in Ohio that prohibits false allegations and it's punishable.  If there isn't, there should be.
I want all of you to please learn from this experience and the process that we are going to be going through. I will share as honestly as I can because I'm hoping that everyone can learn something from this, including anyone that intends to mess with my family in the future.
Please say a prayer that this process is quick and as painless as possible.  Please keep Lizze in your thoughts because this is the last thing in the world that she needs to be dealing with.
To whoever did this…….  I feel sorry for you.  We'll  survive this and once again come out on top.  You'll still be the person that tried to destroy a special needs family.
Despite everything that we live through and the challenges we face, we're happy.  We love our kids and do everything physically possible for them.
You have my pitty…..
For updates on our dealing with Child Protective Services, click HERE.
This site is managed almost exclusively via WordPress for Android. Please forgive any typos as autocorrect HATES me. 😉
Visit the My Autism Help Forums
To reach me via email, please Contact Me