I apologize for the delayed update but today has been pretty crazy.
As you likely are aware of, someone has reported us to Child Protective Services.  They claim that we don't take our kids to the doctors and follow up with their medical care. 
Ironic right? That's kinda how I feel about it. 

I spoke with the investigator (social worker) this morning after we returned from the Farmers market.
We decided that she would come by after school and conduct her interviews and collect whatever information she needed.  I wanted to get this over and done with because the stress of this has Lizze sick and honestly, I'm not too far behind. 
When the too social workers arrived, the boys were upstairs playing and we had our grownup talk before calling them down.
I can't stress enough, just how nice the social workers were.  They were very understanding and accommodating. We were treated with respect and dignity and I got the feeling that they already knew where this investigation was going to lead them.
When it was time to interview the boys, we called them downstairs. 
They agreed to have us present because they wanted the boys to feel safe. 
This is when things got a bit crazy. 
We call the boys downstairs and both Elliott and Emmet show up in full costume.  Elliott was dressed as Captain America and Emmett was dressed as Spiderman.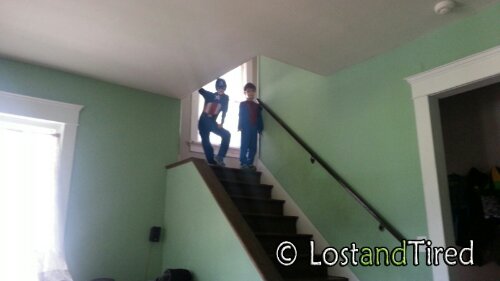 The social worker said that this was probably their way of feeling safer.  Besides, it was friggin adorable.
Of course, the boys were all in rare form.  While they were being interviewed, the we're using their hands to talk. You know, sorta like little puppets. 
It was really cool because the social workers talked back to them the same way and the boys liked that. 
Then Mr. Emmett John decided to kick things up a notch and inform them that "Gavin pee's on the floor in the bathroom".  Gavin didn't hear that but Lizze, myself and the 2 social workers did. 
They were cracking up because Emmett just kept rattling all these random things off and it was awkward…….hilarious but awkward.
I showed them around the house. 
They needed to make sure the boys had beds and their bedrooms were safe. They also had to check the kitchen to make sure we had food. 
That was pretty much it. 
I mean, there was more things in between and I'll share how this has affected the boys in a later post.  For right now, we survived today's investigation.  We will have to wait at least a week before we hear anything. 
We signed a bunch of releases for Akron Children's Hospital an the Cleveland Clinic but it may take awhile to collect the information needed to clear our names. 
The next couple of weeks are going to take forever and honestly, the stress won't be going away until this is completely behind us.  That being said, today went really well and by cooperating we are helping to protect ourselves from this kind of malicious attack in the future. 
I have more to say about this but my battery is dead and we have to get the boys to bed. 
Expect more from me later tonight. 
Thank you all so very much for the enormous outpouring of support.  We very much appreciate it.  🙂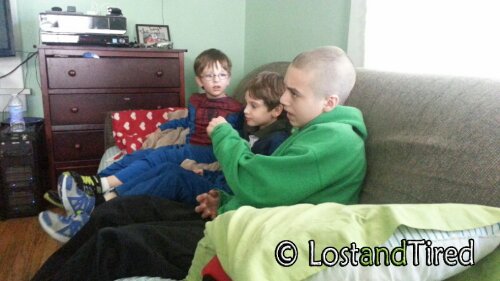 This site is managed almost exclusively via WordPress for Android. Please forgive any typos as autocorrect HATES me. 😉
Visit the My Autism Help Forums
To reach me via email, please Contact Me