I wanted to update you as to how Gavin's been doing since moving back home a few weeks ago. In short, overall he's doing pretty well. 
We've had a few tantrums but nothing we couldn't handle. 
One of the biggest issue we are facing I think at this point is Gavin's lack of maturity.  I know that sounds like a dig on him but that's not what I mean.

Gavin's 13 years old on the outside but only about 3 or 4 on the inside. 
This essentially makes him a 5'4″,130lb toddler.
It's very challenging to keep him from hurting himself or someone else, even unintentionally. He's not very self aware and so he doesn't recognize how easily he can hurt someone. 
One of the other problems and a big reason for most of the restrictions to things like video games, is the fact that Gavin will act out much of what he sees. 
This ends up causing lots of problems.  For example, the boys love the show Wipeout. They can watch it and then go do something else.  Gavin on the other hand, will watch it and then try to replicate what he saw on the show. This often times results in someone getting hurt.
The only course of action is to prevent him for watching the show because Gavin does not learn from his mistakes.
Still, Gavin's doing very well at this point.  We're quite proud of him and vocalize that frequently along with numerous high-fives.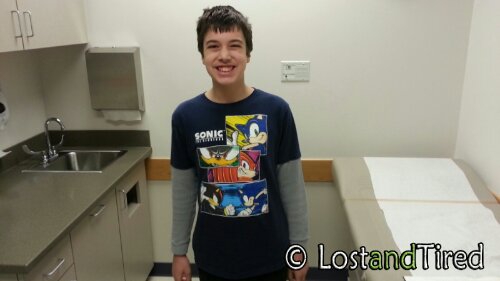 This site is managed almost exclusively via WordPress for Android. Please forgive any typos as autocorrect HATES me. 😉
Visit the My Autism Help Forums
To reach me via email, please Contact Me