While I make it a point to always reserve judgement, this happens to be one of those situations where I show that I'm human and react in a way that I really try not to. 
If you haven't already heard, Dorothy Spourdalakis has been charged in the stabbing death of Alex, her 14 year old son with severe Autism.
Basically, Dorothy had been struggling with her very, very challenging son.  It got to the point that she felt her only option was to stab him to death and attempt to take her own life, which of course, she failed to do.

She's now charged with the stabbing death of Alex.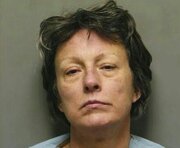 I've been reading about this situation and while I feel for the mothers struggles, I just can't bring myself to even entertain the idea that she was justified in her actions. 
Some of the comments I've read recently are actually supporting this woman and even going son far as to say that "it took courage to do what she did."
I'm amazed and also disgusted that anyone can think that. 
There's no doubt that she was struggling.  There's no doubt that society failed both her and Alex down to the letter. 
My question to you is this.  Is there ever an excuse to kill your child with Autism? Is there ever a reason that can justify what she did?
Look, many of us struggle with raising a child on the Autism spectrum.  Some of us are even raising more than one.  I know how challenging life can be and I know how frustrated and overwhelmed I can get.  Perhaps, my situation is different from hers but at no time have I ever entertained the idea of murdering any of my kids. 
I make it a point not to judge others because I don't know their situation or what they are going through.  However, I'm having a really difficult time not judging this woman right now. 
This is being described as an act of mercy. Nothing about this was merciful. If she wanted to be merciful, there are painless ways to go about what she did. She chose a brutal method and one that caused unimaginable pain and terror. 
To say this child suffered would be a grave understatement. 
I know this is a sensitive issue, so please discuss this in a calm collective manner.  While I don't think there is any justification for what she did, others may not see it that way.  Please treat each other with respect. 

This site is managed via WordPress for Android, courtesy of the @SamsungMobileUS Galaxy Note 2 by @Tmobile. Please forgive any typos as autocorrect HATES me. 😉
Check out my #Autism Awareness Store to find really cool and unique #Autism Awareness Clothing and Accessories, designed by me. 😉
For more ways to help the Lost and Tired family, please visit Help the Lost and Tired Family.