I don't know about you folks but feeding my sensory sensitive boys with Autism can be extremely frustrating. 
Typically I make several different items for each meal because each of my boys have various food proclivities and even food allergies.
The frustrating part is they are so picky that they often times won't eat because of perceived imperfections in their meals.  Sometimes the colors are off or the chicken nuggets aren't perfectly round.

Other times I get this tastes funny. Mind you, it's the exact same thing they always get. It's like they can taste even the slightest difference. 
Then there are the times when Giant Eagle is out of round chicken nuggets but they have the exact same ones, only they are dinosaur shaped.  My thought is that I'm better off going with these than switching to another brand because they taste the exact same. 
Clearly I still have a great deal to learn because I seem to always make the wrong decision.
This food/sensory thing is a very difficult nut to crack. It could literally be anything that they perceive as wrong.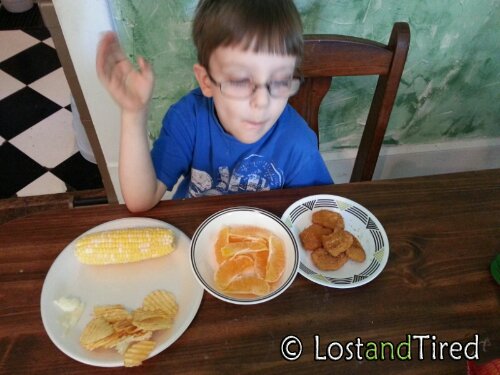 Ironically, Gavin is far and away the easiest to feed.  He's the most complicated of all our kids but he eats just about anything….
Elliott and Emmett are the challenging ones.
What's really frustrating is that even after all the attempts to address each of the sensory needs, they will refuse to eat. Contrary to what some people will say, these guys will go hungry before eating something that isn't sensory friendly.
I can't even remember that number of mealtime meltdowns we've had as a result of this struggle. I'm not afraid to admit that this drives me crazy. I love my boys and obviously won't give up trying but it will continue to drive me crazy.
Do you folks have similar experiences?

This site is managed via WordPress for Android, courtesy of the @SamsungMobileUS Galaxy Note 2 by @Tmobile. Please forgive any typos as autocorrect HATES me. 😉
Check out my #Autism Awareness Store to find really cool and unique #Autism Awareness Clothing and Accessories, designed by me. 😉
For more ways to help the Lost and Tired family, please visit Help the Lost and Tired Family.