The title accurately sums everything up.  My son is psychotic.  While this isn't really anything new, it does appear to be getting worse and not better.
As a reminder, being psychotic does not necessarily make someone a serial killer. 
In layman's terms, psychotic means losing touch with reality. In my son Gavin's case, he essentially loses the ability to distinguish between real and imaginary.

What typically happens is that he gets drawn into these very elaborate, very detailed, imaginary world's.  Historically, these world's have revolved around two themes, Sonic the Hedgehog and Legos. If it's not one, it's the other. 
That said, we have seen them blended before.
Most people will never experience their child in a psychotic break and while I'm very happy for them, it does make this more difficult for people to understand.
In my experience, a lot of well meaning people try to explain it away as an active imagination.
Trust me, I wish it were that simple. I wish it were that neat and clean.  Unfortunately it's not. Sometimes in life, things are messy and uneven. The edges don't always line up and you have to simply accept the unpleasantness of the situation, even if it feels wrong to do so. 
This is one such situation. 
Gavin is psychotic and no amount of positive thinking, alternate explanations, fairy dust or whatever the hell pixies do, will make the reality of the situation any different.
I learned something today while listening to Gavin tell me about his recent adventures with Sonic and the gang. I asked him how he knows when Sonic, Tails, Knuckles and Amy, need his help? 
In a very matter of fact way, he explained that "they call me whenever there's trouble and I have to go deal with it."
I then asked him, how they call him?
He said, "they call me through my watch. All of the hero's have watches that work like walkie talkies and when there's trouble, they call me on my watch."
The reason this is concerning, if it's not obvious, is the fact that he's now being called into the world by things that don't really exist.
This isn't the first time this has happened.  In fact, it's the hallmark sign that things are getting worse.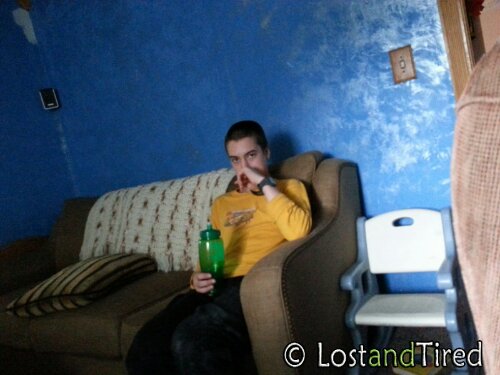 When he was much younger, he heard voices that would make him wake up in the middle of the night and order him to do these elaborate "TV shows." He would be up all night long doing whatever these voices told him to do. 
As time went on, what the voices told him to do got darker and darker.
Anyway, it got really scary and we had to sleep with the two youngest in our room, behind a locked door.  Anything that could be used as a weapon had to either be gone or locked up.  Things likes knives, silverware and scissors, along with matches and lighter fluid for the grill, had to be locked away as well.
While we don't seem to be at that point yet, left unchecked, we could very easily wind up there again.
We need to get him back in to see his psychiatrist ASAP. We may have to bump his meds up again or figure something else out. 
Please keep him in your thoughts and prayers as he battles to find the line between real and imaginary.
This site is managed almost exclusively via WordPress for Android. Please forgive any typos as autocorrect HATES me. 😉
Visit the My Autism Help Forums
To reach me via email, please Contact Me