Change can be uncomfortable for many people, both on and off the Autism spectrum.
With that said, sometimes change is a necessity, in order to move forward.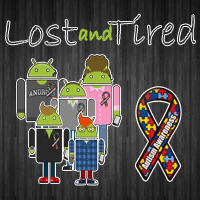 I'm having to make some changes to this site, at least for the short term. You'll notice that ads are now present within posts and comments.  While I hate the idea of doing this, I simply can't afford to run this site anymore without them.
The truth is that I've seen better days and things are tighter than ever. At the same time, the costs of this site are growing exponentially.
Ads are a great way to bring in extra money to help offset the costs or hosting services.  Right now this site is paid for through September of this year.  After that I don't know what's going to happen for sure.
Most of these ads are contained inside of the highlighted text.  The words are blue with a dotted line underneath.
Something else that I'm doing is mixing up the content a bit as well. 
I'm burnt out right now and being pulling in a thousand different directions. I haven't written anything really good in a long time.
For the time being, I'm going to back off a bit and give myself a break.  While I will still be writing daily, I'm also going to post relavent articles on Autism, Parenting and other topics that would be of interest to you, my readers. 
These are not paid posts, but rather information on topics you might find interesting.
I'm really struggling right now and this will give me a chance to get back on my feet, while still keeping this site alive and moving forward.  I still have some really big things in the works and I'm not going anywhere.
I hope everyone can embrace these changes and we can move forward together.  If not, I completely understand.
Thanks again everyone. 
This site is managed almost exclusively via WordPress for Android. Please forgive any typos as autocorrect HATES me. 😉
Visit the My Autism Help Forums
To reach me via email, please Contact Me