I wanted to give you all a peak behind the curtain, so to speak.  Every Monday night, we have to refill Gavin's pill dispenser for the week.  We go one week at a time because the pill dispenser is broken and we haven't been able to replace it yet.
This may look like two weeks but it's actually divided up by AM and PM. The top row is given in the morning and the bottom row is given in the evening, at bedtime.
For the most part, he's taking the same thing in the morning and at night. 

Doling these pills out one week at a time has actually worked out pretty well for us.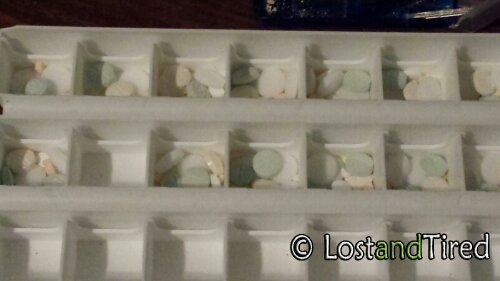 Thankfully, Gavin is amazing at taking his meds. He never complains and never gives us a hard time.  Although in truth, he doesn't remember them anymore. 
He used to request them in the morning and then again at bedtime but he doesn't even remember taking them half the time. 
It's really sad because it'd one of the reasons we first picked up on the regression. Either way, he's still very compliant and that is such a blessing. 
In the picture below, you can see e most of his pill bottles laid out, ready to refill his dispenser. Gavin's on 12 different medications currently.
This may seem like a lot of medication and it really is.  However, we have been able to cut back or otherwise reduce the amount of medications he's on.  Each one of these serves a vital role in Gavin's health and safety. 
Again, while this a lot, it's more than some and less than others.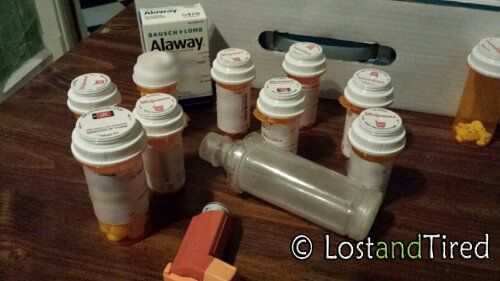 This is how they breakdown.
Gavin is currently on only two psychiatric meds and that's it.  He used to be on a few more. One is an anti-psychotic and the other a mood stabilizer. 
He's on two medications for allergies.
There is an inhaler for his asthma and actually a second one for emergencies but he's never needed it.
IVIG is given once a month at the hospital via a five hour long infusion. This treats his Primary Immunodeficiency.
The last five medications are for his autonomic disorder.  They manage his heart rate, blood pressure and nervous system. Without them, he would be in crisis much more frequently and could die.
Lizze and I are not fans of medicating everything.  Whenever something comes up, we throughly research the pros and cons as well as ask a ton of questions about possible interactions with his other medications. 
As I mentioned already, each one of these medications serve a vital and sometimes lifesaving role for Gavin. 
He has bloodwork done every month to monitor for problems and sometimes more frequently if needed.
I hope you found this both interesting and educational.  I thought that this peak behind the curtain could help provide you with a bit more insight into our lives and just some of the day to day things we have to worry about. 
Pleas feel free to ask me any questions as I'm happy to answer them if I can.
This site is managed almost exclusively via WordPress for Android. Please forgive any typos as autocorrect HATES me. 😉
Visit the My Autism Help Forums
To reach me via email, please Contact Me