I make it a habit not to tell people what to do. However, on occasion I've been known to drag out my soapbox, climb up on and bitch about something that really bothers me.
This is one of those times.
I experienced something the other day while at a school function for my kids. My kids did a Martial Arts Demo in which they demonstrated what they were learning in the Therapeutic Martial Arts (see video montage below).

https://www.youtube.com/watch?v=WvysNhPpBsQ&feature=youtube_gdata_player
What I witnessed at the beginning of the program was really sad and honestly upsetting.
Before each demo, the kids bowed to show respect for their parents and teachers. Sensei then asked everyone to please stand as we say the pledge of allegiance.
There were people there that actually wouldn't stand up and say the pledge. They wouldn't even stand up.
I'm sorry but why can't we all say the pledge?
We were in a room full of kids that are taking these things very seriously and you can't even play along.
I realize that not everyone believes the same thing and we all have a different opinion but as an United States citizen, how could you not be bothered to say the pledge of allegiance to the country that affords you the right to refuse to say the pledge in the first place?
So many people have died to ensure that you and I are free. I feel like it's disrespectful to refuse to do this. Maybe I'm wrong but that's just the way I feel.
I'll be honest with you. I'm not a supporter of the current administration, but I respect the office.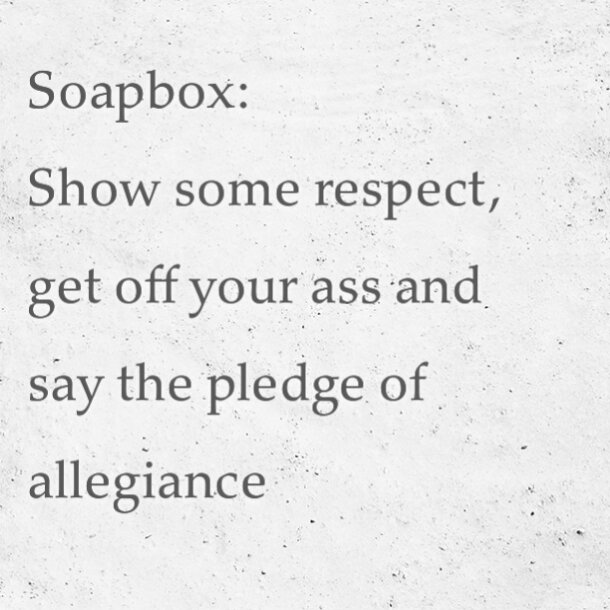 You don't have to like the things going on with the administration or gun control or the war on terror. You don't have to like anything going on in this country.
But….. When we recite the pledge of allegiance, we are not only pledging our allegiance to the country that is but also that country was and will be. We're pledging our allegiance to what this country stands for, not just what it's doing that you don't like or agree with.
Just think about it. You're setting the example for future generations. I for one, want my kids believing in what this country stands for.
One of the best things about this country is that if you don't like something that's going on, you can try to change things for the better. You have that right because of all the men and women you have sworn allegiance to this flag of the United States of America and died defending what it stands for.
So the next time you have a chance to recite the pledge of allegiance, just get off you ass and do it. Show some respect because there are far worse places to live in this world and I promise you, if you were stuck living in one of those places, you would do anything to be back in this country, reciting that pledge.
This site is managed almost exclusively from my Samsung Galaxy Note 3. Please forgive any typos as auto-correct HATES me. 😉
Follow @Lost_and_Tired

"Like" me on Facebook

Visit the My Autism Help Forums
To reach me via email, please Contact Me