As per our Tuesday night ritual, we met with Dr. Pattie.  We were discussing Elliott and his anxiety.  Dr.  Pattie gave us a few things that we can try, that will help to empower Elliott.  I'll let you know how that goes. 
The discussion spun back around to Gavin and how he's doing at home.
Behaviorally, I can't complain because he's doing really well.  That said, we are having problems as a result of his missing filter and current psychological status.

Gavin's never had much of a filter and simply says whatever he's thinking.  He has no concept of what appropriate is, especially in mixed company. I don't think that he intends to offend or upset anyone, at least not all the time.
He's essentially a 13 year old toddler that lacks the social graces and that all important thing called common sense.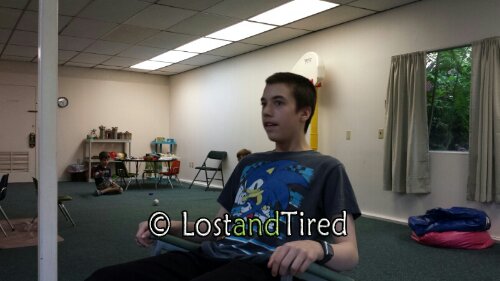 Gavin will tell his brothers things without thinking twice about whether or not their little ears should be hearing something like that. This comes in the form of jokes or even telling them about his dreams. He has some really disturbing dreams sometimes.
I tell him all the time to run this stuff by Lizze or myself before sharing with anyone else.  He never remembers. 
My guess is that many of you out there know what I mean when I refer to Gavin's filter as missing. 
The other concern is once again his psychosis.  He was telling Dr. Pattie, Lizze and myself all about where he lives.  We learned that he has a weapons closet and that Sonic is now made out of crystals.
The rest I didn't really understand but I know that it's not a good sign.
Unfortunately, at this point in the game, there isn't a whole lot that we can do. So far, what he's doing is concerning and maybe a touch disturbing but not dangerous, at least in the physical sense.
The silver lining is that behaviorally, he's doing really well.  He's helpful and cooperative.
I'm really concerned about him but at the same time, I'm proud of how well he's doing at the moment. 
This site is managed almost exclusively via WordPress for Android. Please forgive any typos as autocorrect HATES me. 😉
Visit the My Autism Help Forums
To reach me via email, please Contact Me