With all the depressing and heartbreaking challenges we face, I really feel blessed. These blessings come in different packages, some a bit unassuming.
Take Maggie for instance. 
Maggie's been with us for about 4.5 years now.  We came upon her by chance. Lizze saw a picture of her online and instantly fell in love with her. 

She was at the Greater Akron Humane Society and had been there for almost a year because no one wanted her.  Apparently, Maggie had been seized during a Police raid of a large fighting ring. 
Maggie had been abused and to this day, still has scars from multiple cigarette burns.
She was a fighting dog, a breeder and was pregnant at the time she was taken in by the Humane Society. After her litter was born, she sat there for a very long time because people judged her solely based on her appearance.
Lizze and I called to see if she was still there and she was.  We immediately made our way to see her that night and that's how Maggie became part of our family. 
The reason I'm sharing this is because I was reminded today, just how easy it is to make judgements based on what you see on the surface.  Think about it.  Our kids with Autism are judged all the time, based solely on their behaviors or challenges. As parents, we are constantly being judged as well.
Most people will never know what lies beneath the surface because they don't bother to look.
As with Maggie, no one gave her a chance because they made assumptions about her based on what she looked like and completely ignored her heart. 
If they had given her half a chance, they would have seen that Maggie is one of the sweetest, kindest and most gentle creature to ever walk the face of this Earth.  She's adopted our kids as her own and is fiercely loyal to her family. She endures rough housing from the boys and never bats an eye. 
Her favorite thing in the world to do is climb under the covers and simply lay next to one of us. 
I can't help but feel grateful for her being a part of our lives. At the same time, I feel bad for everyone that chose not to give her a chance. They've missed out on a wonderful friend.
Can you see the analogy here? Can any of you relate to this?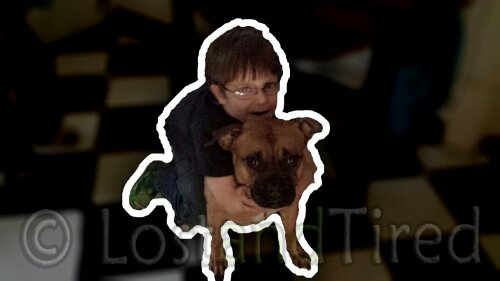 This site is managed almost exclusively via WordPress for Android. Please forgive any typos as autocorrect HATES me. 😉
Visit the My Autism Help Forums
To reach me via email, please Contact Me