Admittedly, I've been pretty wrapped up in my own family lately as I'm sure you can understand.  My goal is to get back to not only sharing my family's experience but also my thoughts and opinions on topics that impact the Autism and Special Needs community.
I know that not everyone agrees with my opinions nor do I expect them to. 
I've tried to be a voice of reason and provide relavent information, from both sides, so that you can make educated decisions.

The My Autism Help Forums were designed to be a place for members of the special needs community to go and share experience, ask questions, find answers, a sounding board or simply a judgement free zone to vent when they need it.
I've been finding it more difficult to stay on top of all this because things with my own family have become extremely challenging.
Finding time to myself and my thoughts has been moved from the back burner and placed on the endangered species list. Heck, simply keeping this site physically online has proved to be both problematic and expensive.
As the school year approaches, I will find myself with a plethora of free time on my hands.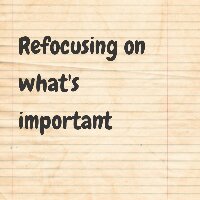 I will be able to dedicate more time to providing for my family, writing and other advocacy projects that I will be taking on.  In October, I will begin sitting on the Board for The Autism Society of Greater Akron and be moving towards establishing our very own Stark County chapter or affiliate….
Writing has been a way for me to stay centered and maintain my perspective.  It's also becoming increasingly more difficult to do as Lizze's health continues to decline. 
With the boys in school all day, I will be able to refocus my efforts and hopefully continue to grow Lost and Tired into a beacon for the Autism and Special Needs Community. 
I would love to get your thoughts on this planned refocus.  Are there topics that you would like me to speak about? Leave your thoughts, opinions and ideas in the comments below. 

This site is managed almost exclusively via WordPress for Android. Please forgive any typos as autocorrect HATES me. 😉
Visit the My Autism Help Forums
To reach me via email, please Contact Me