So I've been up and moving around pretty well this morning and now afternoon. Lizze made it to and from her appointment this morning and even got a nap afterwards.  She's now banished me to our room so I can rest and write a little bit.
I wanted to share something with those of you that perhaps don't follow my Facebook page.
I asked my followers this morning a question and the response I received blew me away.  I asked how they handle being sick with a special needs child at home?
You can follow the comments on my page fb/lostandtiredblog.

[fb_embed_post href="https://www.facebook.com/lostandtiredblog/posts/653100048035819″/]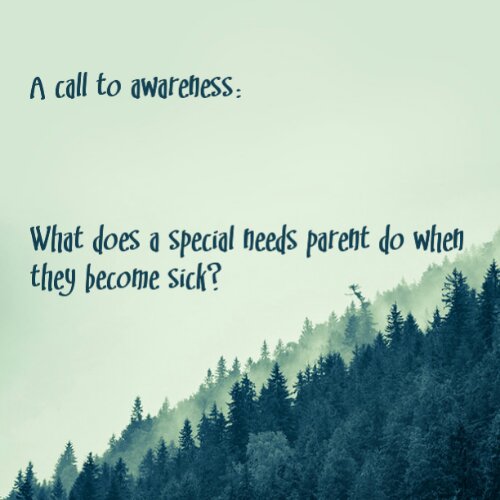 What I read in the 50 or so comments made within a short amount of time was amazing.  Amazing and sad, all at the same time.
Essentially, the consensus was that we, as special needs parents don't have time to be sick.
Some shared that family and friends step in to help but others have no one and are single parents to boot.
I'm not even sure what the right thing to say is. I mean, is it more sad than amazing, or the other way around? As you all know, I'm just getting over being sick.  As sick as I was, I can't imagine having to push myself to do everything I would normally do.
I rarely get sick but when I do, it's pretty rough.  Most of the time it's my wife that's sick or otherwise incapacitated due to chronic illness and pain.
While I was sick, she was able to step up and allow me to rest and I'm eternally grateful for that.
There have also been times that I've had to simply pushed through and do what needed to be done.  The word simply is a misnomer because it would be much more accurate to say that I drug my lifeless corpse, haphazardly throughout the house, barely able to physically do anything other that spill cereal into a bowl and restart Netflix when it timed out. I would sometimes fade in and out of consciousness but thankfully my kids like to sit on me and so I would wake up when they moved.
It's not a pretty picture but like you all said before, we just have to suck it up.
I just have to say that while I'm truly inspired by all of you, it breaks my heart to know that so many of you out there don't have help, even when you're sick.
I wish that there was something I could do to provide you with relief. The only thing I can do is try to raise awareness of situations like these so that hopefully, someone can step in and at least offer help.  Maybe they aren't aware just how difficult it is to be sick and care for a special needs child? Maybe I'm giving people to much credit but I have to believe that calling attention to this problem can help at least one person out there.
If even one person is provided with relief in their time of need, this has been worth it.
I realize that for those of you that have already answered this question on Facebook it's a bit redundant to ask a second time.  However, I'm going to ask again anyway because this post will see a much larger audience and your input may be just what helps someone to realize that they are capable of helping someone in their time of need.
Please answer the following question below in the comments.  Also, you can leave a comment on this same post in Facebook and the comments will be imported.
What do you do when you are sick and have a special needs child at home to care for?

This site is managed almost exclusively via WordPress for Android. Please forgive any typos as autocorrect HATES me. 😉
Visit the My Autism Help Forums
To reach me via email, please Contact Me