A couple years ago, I wrote a story on Why Autism Awareness is Broken. This was actually one of my more popular articles and it garnered a lot of attention.
I wanted to follow up with my thoughts on how things are going with Autism Awareness in 2013 and what I think we could do to make the most out of this coming Autism Awareness Month.
I'm not claiming to be an expert and these opinions are that of my own. As a father to three boys with Autism, I have a vested interest in helping to make Autism Awareness work. These are a few of my thoughts.

For starters, I feel like nothing much has changed since I last wrote about this topic.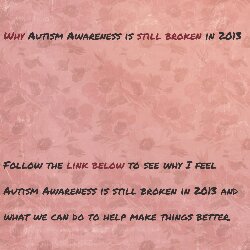 My thoughts still go to all the different factions that have formed within the Autism Community and how said factions seem to divide us.  We have the classic vaccine division, where you either believe that vaccines save lives or ruin them.  There are still people promoting acceptance and understanding (which isn't a bad thing), as well as those that want to cure Autism.
We have parents of high functioning kids with Autism and parents of lower functioning kids with Autism that are sadly unaware of the challenges that are present in each others situations. There are judgements being hurled back and forth because neither side understands the other.
There are even Autistic adults that believe unless you haveAutism, you have no right to advocate, even for your own children. They feel this very, very….um….passionately.
At the same time, it seems that no one bothers to listen to what Adults with Autism have to say. Can we really blame them for being upset or feeling ignored?
We also have Autism organizations that have lost sight of what they were created to do. The month of April has become more about raising money than raising awareness. The whole "Light it up Blue" campaign is among the worst of them.
What does the color blue have to do with Autism? Nothing… It's nothing more than selling or promoting a brand.
All we are doing is promoting one specific organization that many people with Autism don't even support. That should probably tell us something.
Where does that money actually go? How many families or persons with Autism are directly assisted by this campaign?
Autism Awareness Month should not be used as a marketing campaign. Autism is not supposed to be a business.
Then of course we have the infamous Pink Letter(read my thoughts on that here). To say that this is disturbing is as big of an understatement as the letter itself is hateful and disgusting.
I could go on and on.
We are quick to assign blame to the public for not being Autism Aware and we fail to understand that Autism Awareness starts at home, within the Autism Community itself.
I just don't see how we can, in good conscious, hold people outside the Autism Community accountable for things that we are guilty of ourselves. There is so much judgement and animosity within the Autism Community that we should be ashamed. We should know better.
There will always be someone that emails me after reading this, saying that I'm crazy, there's no infighting or judgement within the Autism Community. It never fails. All I can say is that if you haven't experienced this, I'm glad because no one else should have to.
Personally, I have been attacked countless times about my views on vaccines, the fact that I'm a neurotypical person advocating for those with Autism and because I say what I think and not just what people want to hear. It happens more often than you think and way more than it should. I'm even told by other Autism parents that there's no reason that my kids couldn't be mainstreamed because their child has Autism and he or she is mainstreamed and doing just fine.
I hear from parents all the time about their experiences that are similar to that of my own. Just because you haven't seen or experienced this for yourself, doesn't mean it's not happening.
We spend so much time focusing on everyone else in the world being Autism Aware, we don't see what's going on at home.
It's a forest for the tree'skinda thing.
Before we can expect the world to understand and accept those with Autism, we need to understand and accept as well. We need to remember that every person with Autism is unique and not a copy or clone of anyone else. In the same token, we have to be cognizant that every family raising a child with Autism can and very often will, have a profoundly different experience. Every family faces different challenges, some more than others.
Put more simply, just because our children share a diagnosis doesn't mean that they are the same. We need to remember this.
We need to reach across our superficial differences and focus on our fundamental similarities. Despite our different beliefs, I truly believe that we all want what's best for our kids. That means that we have something very, very important in common.
Simply because we don't agree on what causes Autism doesn't mean that we can't present a unified front. Just because someone doesn't have Autism themselves, shouldn't mean that they can't help or even be an advocate. I've always felt like the only prerequisite for advocating was a willingness to learn and the ability to care.
I have to believe that we are able to find some common ground. I have to believe that we can use that common ground to build a platform in which we can show the world all the different faces and voices of Autism..
We don't need Autism organizations competing for dollars or popularity. We need them to help. We need them to step out of their offices and into the trenches. We need them to get in touch with what the Autism Community needs and here's a crazy idea, how about actually working together.
It's also of vital importance that we listen to what the adult Autistic community has to say. They can teach us so much, especially about our own children.
When it comes to situations like the Pink Letter, we have to maintain perspective. No matter what we do or how effective Autism Awareness is, there are always going to be hateful, ignorant people in the world. There's nothing we can do about them. I'm angry at the words I read and my heart breaks for the family targeted. However, we can't allow the type of person that would write something so vile to take away any of our power or control. By combating their hateful words with hateful words of our own, we're allowing them to change us and not for the better.
Lastly, I truly believe that everyone should have a voice. Everyone's experience with Autism is very likely to be different and while there may be similarities, no two stories will be exactly the same. We need everyone that has a story, to feel comfortable sharing their stories without fearing judgement or ridicule, especially from people who should understand.
If we want the world to be more Autism Aware, we need to lead by example.
This site is managed almost exclusively via WordPress for Android. Please forgive any typos as autocorrect HATES me. 😉
Visit the My Autism Help Forums
To reach me via email, please Contact Me