One of the biggest struggles many parents with Autistic children have, has to do with feeding or mealtimes. I can say from personal experience, that this is one of our biggest struggles as well. 
I think that it's a common misconception to think that kids on the Autism Spectrum are just picky eaters.
In truth, I suppose it looks that way to the outsider but in reality, it's much, much more complicated than that. While I can't and won't speak for your child, I can share what I know about mine.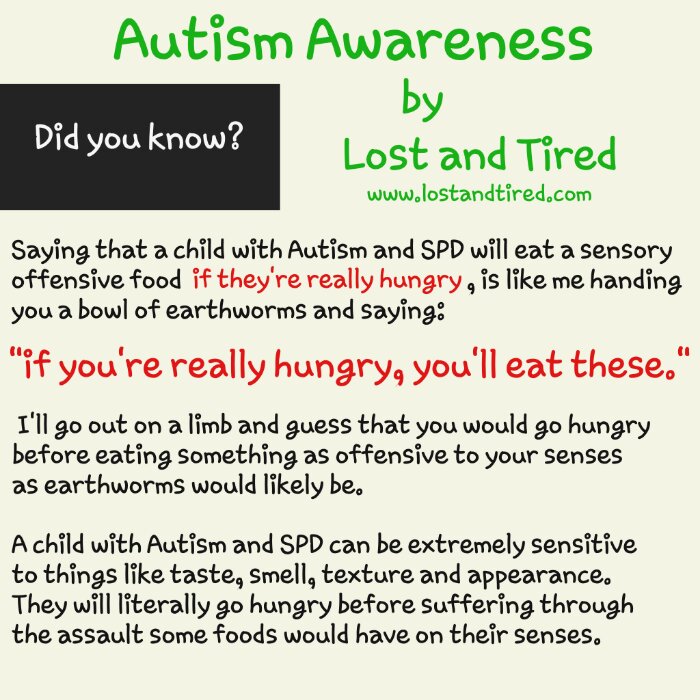 Many, many kids on the Autism Spectrum, also have something called Sensory Processing Disorder as well.  In a nutshell, this basically means that their body struggles with interpretation of sensory input. This can result in extreme overreactions to things like taste, smell, texture, noise, lights as well as other visual stimulus.
Now that we're all on the same page, back to the picky eating point of this post. 
Elliott and Emmett are extremely sensory sensitive. Gavin has come along quite well offer the years, especially when it comes to food.
It's not uncommon for me to have to make three different meals in order for everyone to eat.  It's also not uncommon for me to have to remake two of those meals, several times, before they will be deemed eatable.
Most people would say that, if they're really hungry, they'll eat.
The people that would say that, very clearly don't have a child with Autism and/or Sensory Processing Disorder because if they did, they would be cognizant of the fact that these kids would sooner starve than put the offending food item into their mouth.
I mean that quite literally. 
This has been an ongoing issue for many years and for the most part, we've found ways to work with this at home.  It's not easy and it's quite frustrating but we manage to get everyone eating at every meal, at least most of the time. 
However, now that school is back in session this has become a problem once again. 
We all know that cafeteria food isn't always the best and even kids without these sensory issues, find the food unpleasant.  Imagine what it's like to be faced with the situation of being very hungry but being unable to physically tolerate the food being offered?
I can't stress enough, that this is not about kids trying to be difficult. This is about kids that are being assaulted by their senses. This is about kids that would rather go hungry than suffer the sensory assault of food that has an offensive texture, color, smell, appearance or taste.
There is likely nothing wrong with the food in question, it's all about how the child's brain is interpreting everything. 
I'm telling you, these kids will not just eat if they're hungry. They simply won't.  I deal with this every single day will my boys.
You can think about it like this. If someone offered you a handful of worms for lunch, would you eat them? It's safe to say that you probably wouldn't. Could you handle the texture, taste, smell and appearance of a handful of squiggly worms?
Let's say that you missed breakfast and were really hungry.  Would you eat the worms then?
How hungry would you have to be?
Would you be able to deal with even the idea of shoving those worms into your mouth, chewing them up and swallowing?
Would it be fair for someone to say, hey if you're hungry, you'll eat the worms?
I suspect that you would find that unfair and you know what? You'd be right. In the same light, it's not fair to just expect kids or even adults with Autism and/or Sensory Processing Disorder to do something that you would be unwilling to do yourself.
While no one's expecting you or these kids to eat worms, my hope is that this example helps you have a better understanding of what these kids experience when it comes to eating and sensory processing related food proclivities.
This site is managed almost exclusively via WordPress for Android. Please forgive any typos as autocorrect HATES me. 😉
Visit the My Autism Help Forums
To reach me via email, please Contact Me