As a victim of two spite calls so far this year, I'm left with a new perspective as well as with one burning question. Should the people that are making these ridiculous accusations, be held accountable for their actions?
I'm sure there will be two schools of thought on this.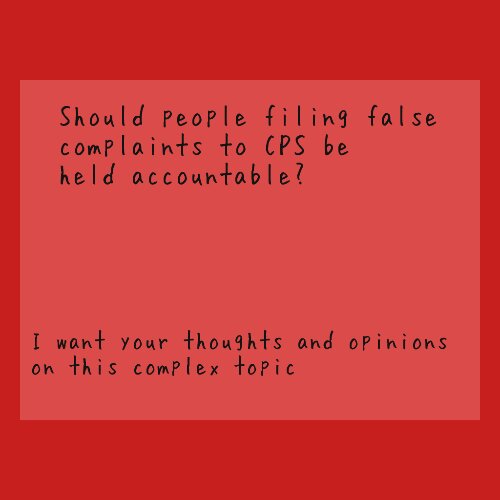 The first one will likely come from those who have never been the victim of a spite call.  The truth is, this argument makes a great deal of sense as well.  If we hold people accountable or require these people to identify themselves with each complaint they make, we will likely discourage people from reporting things in general.
How many kids would pay a price then?
On the other hand, once you have been a victim of a spite call, your perspective may change.  While there is merit to what the first group is saying, when you are attacked in this manner, there is a desire for justice.
I find myself understanding both sides but having more in common with those wanting justice. 
Wanting justice is not the same thing as wanting revenge.
Having Child Protective Services show up at your door and demand access to not only your life but the lives of your kids as well, is a violation. It's also made worse when you know the call to CPS was made out of spite.
The first time we were investigated it only lasted a couple of months but it was unbelievably stressful and had a profound impact on my entire family.  Most of these claims see to be ridiculous in nature and easily disproven.  However, easily disproven doesn't mean you don't have to go through the process.
The other thing is that CPS workers have a tremendous amount of power and not all of them are pleasant.
We were very luck to have a really nice worker that knew the complaint was bogus. We were treated with respect and they saw to it that the boys were not thrust into the middle.  For that, we are very grateful. 
However, this experience left us traumatized because we had to open our lives up in ways that we wouldn't have otherwise and all because someone makes a complaint with either the intent to cause harm or because they don't understand.
The bottom line is that when someone files a false complaint, it can destroy a family and for absolutely no reason. 
I don't know how this could be done but I really feel that there should be laws protecting people from complaints of this nature.  The problem is that I don't know if this is even possible. 
Is it better to have 100 false allegations and stumble across a child in actual need of help? Where do we draw the line and should parents have recourse after being falsely accused?
I would love to get your thoughts on this.  I'm interested in hearing both sides. 
This site is managed almost exclusively from my Galaxy S4. Please forgive any typos as autocorrect HATES me. 😉
Follow @Lost_and_Tired

"Like" me on Facebook

Visit the My Autism Help Forums
To reach me via email, please Contact Me
Setup of an account with Bluehost and I get paid. If your looking for a host for your website or blog.
Click the image below and check out Bluehost. It's what I use.