I know vaccines are beyond a touchy subject for many people, especially Autism parents. I firmly believe that everyone has the right to do what they think is best, when it comes to their kids. 
Having said that, I'm a proponent of vaccinating because I know they save many, many lives. 
While I'm for vaccines, I'm also for responsibly vaccinating our families. That means, I have a discussion with my kids doctors, prior to any vaccinations being given.  We discuss possible side effects or whether or not there may be any health related issues that would cause a vaccine to do more harm than good.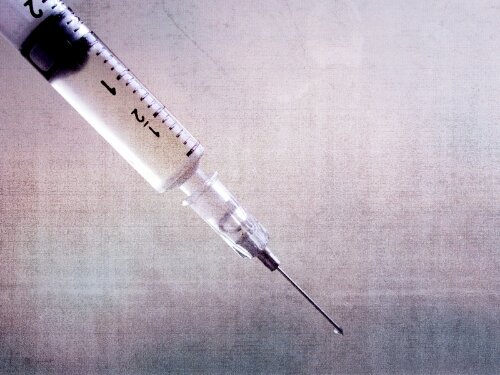 My entire family is vaccinated. However, we have been known to delay certain vaccines (with the support of our pediatrician) because of either chronic or acute health problems. 
This is the case with Emmett. Lizze and I, along with our pediatrician, have opted to put the MMR off because of Emmett's fever disorder. No one felt comfortable adding anything to the mix and I feel that was the right decision to make. 
Currently, the MMR will likely be done at an appointment in the very near future.
I'd be lying if I said that I wasn't nervous or concerned about potential problems, as a result of my kids receiving a vaccine.  Problems do occur but statistically, serious vaccine injuries are very rare. With many of these diseases or illnesses on the rise, in our eyes, the benefits far outweigh the risks.
Not everyone will agree but they don't have to. 
As far as the flu shots go, everyone will receive that again this flu season.
To begin with, Elliott and Gavin both have asthma. This puts them at greater risk. Gavin is severely immunocompromised as well and that makes preventative measures all that more important, for all of us. 
When we get vaccinated, not only are we helping ourselves but those around us as well.
I think that there is common misconception about the flu.  I'm not sure how many people understand that the true flu is respiratory related and not the vomiting for 24 hours, stomach bug, that is commonly referred to as the flu.
A brief description of the flu, according to the CDC
Influenza (the flu) is a contagious respiratory illness caused by influenza viruses. It can cause mild to severe illness. Serious outcomes of flu infection can result in hospitalization or death. Some people, such as older people, young children, and people with certain health conditions, are at high risk for serious flu complications. The best way to prevent the flu is by getting vaccinated each year.
The flu is not something to be taken lightly. 
Deciding to vaccinate my family is a deeply personal decision.  My wife and I weigh the pros and cons, before making a decision.  Ultimately, we trust our doctors and know that 2 of our 3 kids are considered high risk for things like the flu and so we have to take precautions. 
Emmett will get the flu mist, while the rest of us will get the physical injection. The other boys can't have the mist because of their asthma.
Anyway, rather than preach about why I think you should vaccinate your family, I thought it would be more appropriate and far less offensive, if I simply shared why my wife and I made the decision to vaccinate our family. 
Vaccines aren't perfect and not everyone tolerates them well.  Fortunately though, serious injuries are rare, very, very tragic, but very, very rare.
What most people seem to not understand is that no one reacts well to being judged or told what to do.  Telling someone to vaccinate their family, isn't likely to be received well. However, by sharing the how's and why's of why we do or don't vaccinate, we can help other families to make informed decisions. 
While I hope that more parents will vaccinate their families, I'm not in a position to tell anyone what's best for their respective families.
I think we need to do a better job of quashing the misinformation about vaccines and encourage those concerned to talk to their doctor before simply saying no to a vaccine.  Our doctors are there to care for our families and I think that they are far more likely to give it to us straight, than say a famous celebrity with no medical degree, or an underground conspiracy website.
Anyway, that's my story.  This is why we have chosen to vaccinate our kids. 
Take it or leave it but I stand behind our decision.
This site is managed almost exclusively from my Galaxy S4. Please forgive any typos as autocorrect HATES me. 😉
Follow @Lost_and_Tired

"Like" me on Facebook

Visit the My Autism Help Forums
To reach me via email, please Contact Me
Setup of an account with Bluehost and I get paid. If your looking for a host for your website or blog.
Click the image below and check out Bluehost. It's what I use.